By Tracy Wang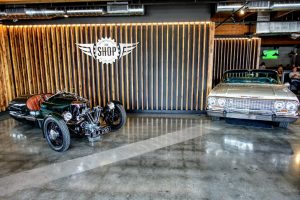 The Shop, a country club for gearheads, is a new addition to Seattle's car scene. Located just south of I-5 in the SODO district, The Shop offers not only a location for all car and motorcycle enthusiasts to learn more or work on their vehicles, but also serves as a gathering place where they can hang out and and talk shop in the member lounge. Besides 36,500 square feet of space for storing and working on vehicles, The Shop also has an Ethan Stowell Restaurant, Derby, which is open to the public.
At just over five months old, The Shop offers a unique experience for members and visitors alike. The founder, Matt Bell, a fellow gearhead, describes The Shop as 'a destination for car and motorcycle enthusiasts, whether you are a member of the actual shop club itself or not, it's a place for you to come, drive, or ride and enjoy'. From the restaurant to the private game room, The Shop has the feel of both inclusivity and exclusivity. Both members and non-members can participate in and enjoy a great number of activities and events.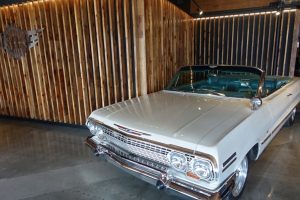 Since Seattle is rich in automobile and motorcycle culture (though the raining season can deter the car scene in Seattle from time to time), the city has many different entities or businesses offering parking or storage services. However, as Bell's passion for cars continue to grow, and after many conversations with fellow car enthusiasts, Bell notices how 'there are very few places that are designed to allow people to interact and hang out and work on their cars'. The lack of such a place drove Bell to create a place that is much more than just storing cars. As a result, what makes the Shop so unique is its taking an extra step in providing Seattle's public with many more services that are about seeing, enjoying, working on and also talking about cars that people care so much about.
With the concept of catering to people with all interest levels in cars, The Shop targeted a great range of demographics when it first opened, and it has since generated interest from a wide range of audiences, including both females and males. Bell explained how it is all about the design of the Shop; 'whether you are driving a Volkswagen or a Ferrari, whether you are a city employee, or a CEO, you feel comfortable in the Shop'. With Derby right inside The Shop, and Safeco Field (Mariners), CenturyLink Field (Seahawks) close by, The Shop has also attracted many customers who are here for some pre-game good food. To make travelling to the CenturyLink Field easier, The Shop also offers shuttles to Seahawks games, which further increases the visitor flow and the feel of a community hub.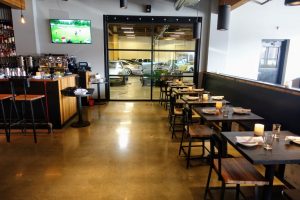 Other than the shuttle service, and the great food at Derby, The Shop also has on-site experts who can either help the members maintain or work on their cars, or they can teach the members how to do a variety of maintenance work. The members can enjoy a series of members-only services and benefits, including viewing of private car collections, a VR simulator, and they receive discounted rates for working on their cars and a member discount at Derby. These exclusive benefits help members to create a private circle of friends and have a new place to interact and build relationships. The Shop also provides a variety of activities and events (Cars & Coffee on Saturday, Bikes & Brunch on Sunday) for non-members, and anyone can enjoy a nice view of cars when they are dining in Derby. They also host several themed events (Halloween Party, New Years Eve Party) each year.
The Shop surely helps to create a more lively atmosphere for the car culture in Seattle, and just like Bell said, 'It's a place, whether you are a member or not, to come down, see cool cars and meet other like-minded people'.
More information on The Shop:
Address: 2233 6th Ave S, Seattle, WA 98134
Website: http://theshopclubs.com/
The Shop hours: Weekdays 10am to 10pm, Weekends 8am-10pm
VR simulator hours (members only): Thursday & Friday 6-8pm, Saturday & Sunday 10am-2pm
Derby restaurant hours: Weekdays 11am to 10pm, weekends 10am-10pm (brunch served), happy hour: 3pm-7pm.