By Tracy Wang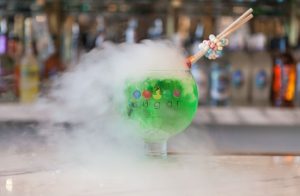 Sugar Factory, the most extravagant candy retail and restaurant chain, has opened its first location in Washington state last September, and it is located at The Shops at the Bravern in Bellevue. An American Brasserie that welcomes people of all ages, it offers a huge array of delicacies that are centered around candies which are sure to satisfy anyone's sweet tooth. With its signature items being couture pops and goblet drinks that are both fashionable and photo-worthy, it has attracted numerous celebrities' attentions, and some of the sweet products are even designed by celebrities. Commenting on Sugar Factory, Charissa, the founder of Sugar Factory, said, 'we want our customers to come and enjoy not only their food but we want them to feel comfortable, we want them to feel the warmth of this place and be able to take special pictures'.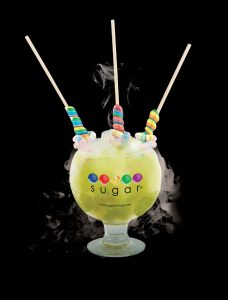 First opened in 2009, Sugar Factory was only a confectionary 'that has all types of candies that you can imagine' in Las Vegas. As the business grew, it quickly introduced and added the two signature items, the goblet and couture pop ('a lollipop with an interchangeable head'), to its menu and store; once the couture pop was introduced, it instantly became the new fashion to have a couture pop, and through the hands of celebrities, it had became a fashion statement.
With a handle that is made with all kinds of crystals and beautiful colors, and sometimes even with a charm, 'it is definitely a great item that not only is it fashionable but it's delicious, fun and it was kind of a collector's item'. Since it is a huge lollipop, it comes with a plastic lid that makes it easy to just put the lid back on, put it back into the bag, and then just take it out again when the consumer wishes to eat it. What's better, the consumer can keep the handle, and change flavors whenever they feel like a different flavor.
When asked the inspiration behind such a fun and creative design of a lollipop, Charissa said, 'it came to life (because) every single person relates to a lollipop'; it is a candy that is in everyone's memory. Other than the popularity of a lollipop, they were also considering what type of candies can be easy enough for the celebrities to carry around, and thus couture pop was born. At Brooklyn's Barclays Center, the couture pops even have charms, so after watching a game or concert, visitors can always have some souvenirs to bring home. Currently, the most popular flavors are watermelon and strawberry.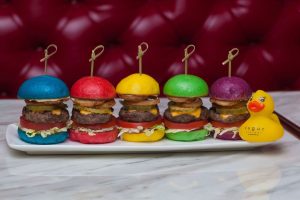 Similar to the concept of the couture pop, the 'mascot' of Sugar Factory, a yellow rubber duck, was chosen because everyone can relate to a rubber duck. 'When you look at a yellow duck, (no matter) where you are from, a foreign country, wherever, you would recognize this duck', said Charissa; the rubber duck is universal, and the color, fun and joy of it is what Sugar Factory wants its customers to feel when visiting any of its locations.
Another signature item of Sugar Factory is the goblet, alcohol or non-alcohol drinks which are candy-inspired and massive. Each one of it is paired with certain candies to add to its flavor, and some of the drinks also have collectable items that customers can bring home (the most popular goblet, Lollipop Passion, comes with a candy necklace). Like the couture pop, the goblet is great for photos (a picture of Lollipop Passion had Sugar Factory voted the most instagrammed restaurant); the staffs are all happy to take pictures for the customers, so they will have a more lasting memory.
Since 'we (Sugar Factory) want everyone to enjoy (the goblet)', it has offered the option of alcohol or non-alcohol. A perfect location and decor for a party, anniversary or Sweet Sixteen, Sugar Factory has been welcoming all kinds of celebrations, and witnessing important moments of its customers' lives.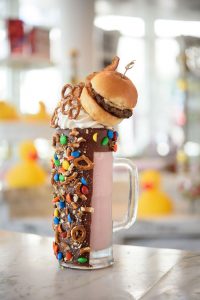 Though Sugar Factory had many location offers from Seattle, it chose the location at The Shops at the Bravern, because it is situated in a beautiful mall, and the layout of the store is perfect for it. Along with its Bellevue location opening in September, it had also introduced Mariah Carey Christmas Factory in which Mariah Carey, the icon for Christmas, curated the whole candy line. Her candy line is sold online year round, and Bellevue is the only location that sells this candy line at times other than Christmas.
With its footprint reaching many states and cities (New York, Las Vegas etc.) in the United States as well as locations overseas (Dubai, Philippines), all of its locations have their own characters and the services could differ. Since many people go to Las Vegas to get married, the upper part of Sugar Factory in LV has a candy land theme, and it has a chocolate lounge, and a outdoor gazebo with lights inspired by Twilight that is perfect for wedding receptions. Speaking on the decor of its restaurant and retail space, Charissa said, 'the candy itself is the store because it brings such light to the store and that is the decoration'.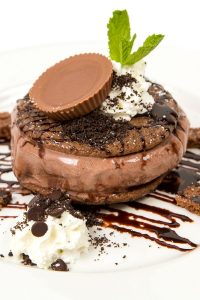 Opening a retail and restaurant here in Washington State has allowed Sugar Factory to further increase its candy empire, and since candy is a universal language, Sugar Factory is looking into the markets in China and San Francisco area, and ready to become the backdrop for even more people's sweet memories.
More Information on Sugar Factory in Bellevue:
Address: 11111 NE 8th Street Suite #120, Bellevue, WA 98004
Phone: (425) 454-0313
American Brasserie Business Hours
Monday, Wednesday and Thursday 3pm-11pm
Tuesday Closed
Friday 3pm-12pm
Saturday 10am-12pm
Sunday 10am-11pm
Happy Hour 3pm-6pm (2 for 1 drinks and half off appetizers) Weekdays Only
Chocolate Lounge Business Hours
Monday, Wednesday and Thursday 5pm-11pm
Tuesday Closed
Friday & Saturday 5pm-2am (close at 12pm if not busy)
Happy Hour 5pm-7pm (2 for 1 drinks and $5 pizzas) Weekdays Only