By Tracy Wang
Running at Center Theatre (Seattle Center) till March 11th, Sound Theatre Company's 'You Can't Take It with You' is perhaps the most-needed warning or reminder of diversity and acceptance that we need in the United States right now. Written by Moss Hart and George S. Kaufman, and directed by Teresa Thuman, this play is an embodiment of chaos and also unity, and the inclusion it shows in hiring a diverse cast sets an example for other theatre productions, performing arts companies as well as the lives it touches.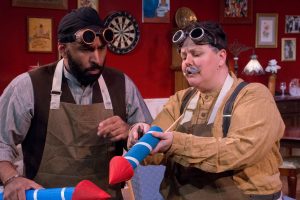 Set in the home of Martin Vanderhof in New York in 1936, 'You Can't Take It with You' begins with Penny, played beautifully by Shermona Mitchell, coming into the living room, and continuing writing a play on her typewriter. As the household of Vanderhof rushes from one room to the next, and all doing bizarre or random tasks, it settles into a rather chaotic state as Essie, Penny's daughter, dances ballet around the room, and Ed, Essie's husband, plays the piano. Soon, it is revealed that Alice, Essie's sister, is dating Tony, the vice president of Kirby and Co, where she holds an office job. After watching a ballet performance together, Tony comes back with Alice to her house, and professes his love for her.
Though overjoyed with his love, Alice remains doubtful that their relationship will work, since they come from such different families and backgrounds (Tony's family being higher class). However, they soon surrender to their love for each other. A week after, Tony's parents are coming to dinner, and Alice is anxious to have everything perfect and ready. On the night before the big dinner, Tony arrives suddenly with his parents, and they watch in astonishment at the chaos (dancing, firework-making, painting) unfolding in front of their eyes. Will they be able to look past their differences, and accept each other? What do they need to learn from each other?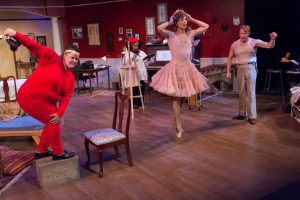 On surface level, 'You Can't Take It with You' is a straightforward comedy with much laughter and joy. The script is full of clever and teasing lines that fit the lifestyle of this chaotic and noisy household, and it often elicits waves of laughter from the audiences. However, it is also a comedy that stays with you long after it has ended, because of the questions and reminders it shouts. Its essential message is simply the title: You Can't Take It with You'; what the modern society cares so much about (the money, fame, success, class) have little value here, and Grandpa Vanderhof's (Teotha Dennard) speech on people focusing on living instead of building something that cannot be taken with one after death asks for some deep reflection from the audiences.
The main conflict, caused by class difference and personality difference of two families, helps bring out an interesting dynamic in a family that lives to the beat of a different drum, and draws out a serious question of how to find a balance between the chosen family and the birth family. Ayo Tushinde, playing Alice, impersonates Alice perfectly, and depicts a girl who finds it difficult to live in both worlds. Her fear in feeling ashamed of her own birth family, and her wish in embracing a new and different life collide on stage, and resonates with all of us who have been finding the balance between keeping and loving what we had and moving forward in living our lives.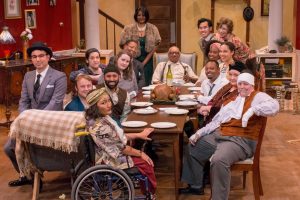 Embracing the 2018 season concept of 'The HUMAN Family: Toward a Radical Inclusion', Sound Theatre Company has not only presented a play that are asking some crucial questions such as what we should pursue, what our priorities in life should be, and what we truly want out of our limited times, but also given us a play which includes such a diverse cast that challenges our stiff notion of what makes up a family. As soon as the audiences open their program, we see an array of actors who are of different ethnicities, gender, age and personality; as the play unfolds, we see a loving, though at times chaotic, family that is made up of actors who are of diverse backgrounds. To see such an array of actors on stage performing as a family is inspiring and allows us to reflect on what a family means. Does it need to be made up of related humans? What does it take to love someone who is unrelated to us?
With a wonderfully-designed set, and a fabulous cast, this play is brought alive, and the content is as relevant as when it was first performed in 1936. If you are looking for a play that is both entertaining and inspirational, you should go watch 'You Can't Take It with You'.
For more information or tickets, please visit: http://www.soundtheatrecompany.org/2018-season/you-cant-take-it-with-you/