By Tracy Wang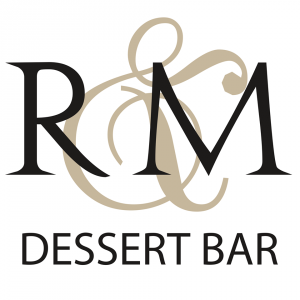 Opened on November 26th, 2017, R&M Dessert Bar (short for chefs/owners Rod and Marc) is a late night dessert bar that offers unique artisan desserts and wines on Capitol Hill. At just over three month old, R&M Dessert Bar has become a must-try for many tourists and locals; their delicious desserts are earning stellar reviews, and it is quickly rising to the top of the dessert scene in Seattle.
Having been making and selling desserts for over ten years, Marc and Rod had the idea of creating a dessert bar that is not only about coffee, but about wines and ciders. After going through both of their grandmothers' recipe boxes to remember what they liked, and what they could modernize, and doing years of catering (giant birthday cake, wedding cakes) and pop-up shops, they were ready for a brick-and-mortar store. With 'a lot of visibility and lots of food traffic', the location on Capitol Hill is perfect for dessert display, and small enough for them to manage the bar on their own.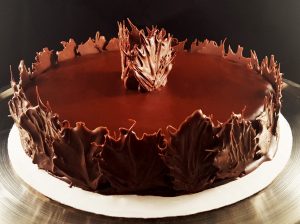 When asked why he makes a career out of making desserts, Marc said, 'if you have good food, it's going to have good people together'. For him, good food is like music which has the power to bond people with different opinions together, and can make everyone comfortable. The power of great desserts draws him in, and his personal favorite is chocolate truffle cake that they sell on-site. Served with chocolate ganache on the side, this cake is also one of the most popular choices on their menu. Another often-ordered choice is peach brown sugar bread pudding that is neither too sweet nor too heavy. Several of the desserts on their menu require some interactions when served, and the owners/chefs 'encourage people to interact with their food because it's fun'.
Since Seattle has many restaurants or dessert shops selling desserts, 'we try not to do things that you can get somewhere else'. Using some of their grandmothers' recipes, they made certain modernizing changes to make these desserts more Seattle, when they were coming up with the menu. For the passion fruit tarts, instead of following Rod's grandmother's recipe completely, they now make it with Marc's crust. Almost all the tarts they serve are using the same crust, but to create distinctive flavors that go with each tart, they set different cooking times that allow the crust to be more flaky, more buttery or more solid. Because the dessert bar is run by only Marc and Rod, and to make sure the desserts are fresh everyday, they only make small batches (10-15).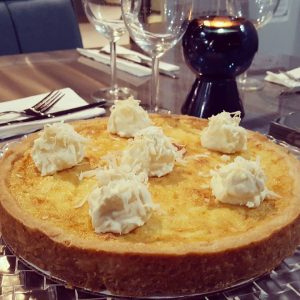 With roughly fifteen different items in the display case, and such small batches, they sell out fast; as a Uber Eats dessert bar, R&M Dessert Bar has also been getting many orders from hotels. Since it is located on Capitol Hill, it is also an easy spot to get to from downtown; many people who grab dinner around that area go there for a late-night dessert. With its stellar review on yelp, it has been attracting a lot of tourists. Surprisingly, Marc noted how 'it's (female/male ratio) about half and half, women and men', and there does not seem to be a distinctive difference between women and men's dessert choices. In order to 'allow them to feel like they are talking to the person who makes it', Marc and Rod always make sure that they interact with the customers; when they are asked the most-asked question: what should I get, they always try to get to know the customers a bit by asking whether they prefer fruity ones or chocolate ones. Once they have the answer, it become much easier for the customers to choose, since each category only has a few choices, and many of their items are one-and-the-only in Seattle.
Since it is a dessert bar, R&M Dessert Bar offers wines on its menu to go with the desserts. Before opening its store, Rod and Marc had dedicated their time in selecting wines that go with their desserts the most, so the customers can have a romantic night-out filled with wine and delicious desserts.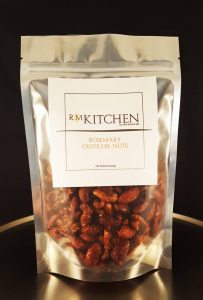 Situated in a neighborhood that is rich in night life and has most of its restaurants opening around seven, the dessert bar begins to get busy around seven as well, and it is seeing the most crowd from 8 p.m. to 12 a.m. on Friday and Saturday. Since the store is small in space, they are currently encouraging their customers to take-out or make reservation before coming.
Besides selling their desserts through Uber Eats and in-store, R&M Dessert Bar also offers Fresh Baked Club, which delivers four tarts to the customers' doorsteps every month. With many of their customers being tourists across the United States, Fresh Baked Club allows them to still taste the tasty desserts after they fly back to their cities, and even allow people who have only heard of the deliciousness of their desserts to try them out anywhere in the United States. In order to cater to those who are celebrating or looking for a tasty gift to give, but also wanting to select something based on personal favorites, R&M Dessert Bar also offers basket that can be filled with desserts, wines and pre-packaged items such as cinnamon bun popcorn, chocolate pepper popcorn and many more. A basket can be filled with six or seven items in the store, and can be a perfect gift for any holidays or celebration.
A dessert bar that is modern, artisan and definitely Seattle, R & M Dessert Bar is tailored to those with a sweet tooth as well as those who just want to taste something different from time to time.
More information on R&M Dessert Bar:
Address: 601 E Pike Street, Seattle (Pike & Belmont)
Phone: 206-351-9993
Website: https://www.rmdessertbar.com/
Hours: Sunday – Thursday 5pm to Midnight, Friday – Saturday 5pm to 2am
​