By Tracy Wang
Pacific Northwest Ballet's (PNB) annual 'Director's Choice' opened on March 16th, and will close on March 25th. This year, artistic director Peter Boal has brought in two pieces by William Forsythe, one by Ulysses Dove, and one by the company's very own soloist Ezra Thomson, and further challenges what we normally perceive as ballet or dance.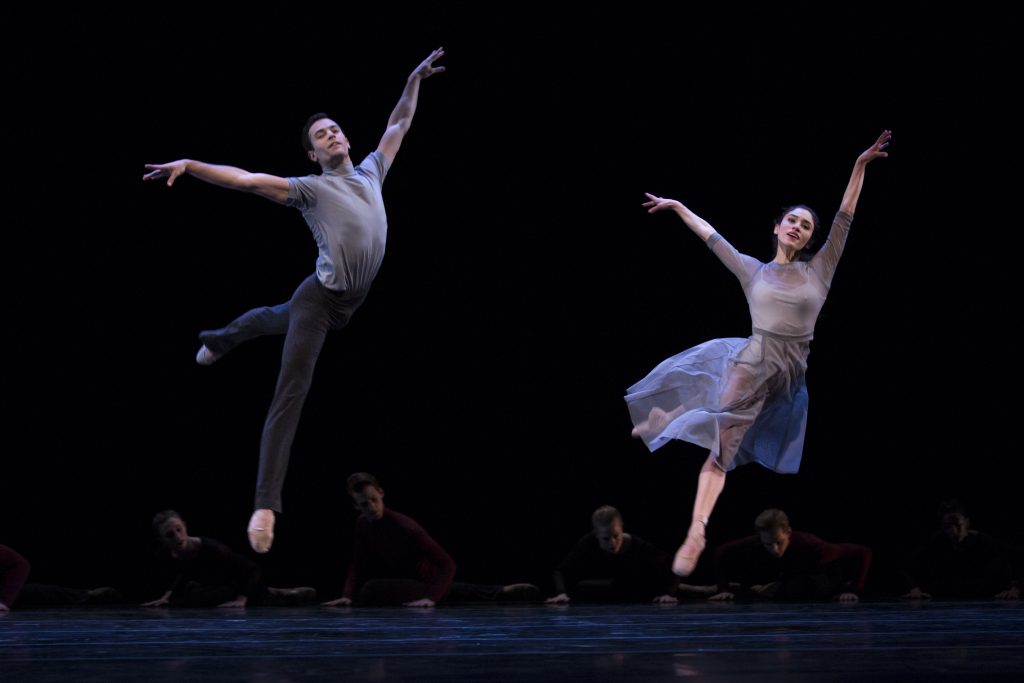 'The Perpetual State'
Thomson's very first piece for the mainstage, 'The Perpetual State' is his continuous exploration of life after his father's death about three years ago. After his piece about his mother's grief for PNB's Next Step program last year, this time, he has put the focus onto himself, and choreographed a work that is a mix of classical ballet and neoclassical ballet.
Grief, though a perpetual state of chaotic and constant pain of loss, is not the only perpetual state we experience in life, noticed by Thomson. Recently married to PNB corps member Sarah Pasch, Thomson recognizes both grief and love as perpetual states in life, and those two states become the center theme of his ballet.
Leta Biasucci, representing Thomson in the ballet, takes the center stage in 'The Perpetual State', and gives us a character who is heartbroken, vulnerable, and yet, strong and having the strength to find solace in love and celebrate death through love, family and reunion.
Always sharp on her technique, but soft in her movement, Biasucci helps narrate a story of being lost in loss and being found in love. Thomson's choreography crystallizes the characters, their relationships and the main themes of love and loss.
From the initial sense of loss of direction through Biasucci constantly looking around at the fast-moving world of corps members, the heartfelt appearance and cradling from Jerome Tisserand in the role of his wife, Pasch, to the mirroring pas de deux of Biasucci and Tisserand and his parents (Karel Cruz as his father, and Sarah Ricard Orza as his mother), our eyes burn with relief as Biasucci finds love as another perpetual state with Tisserand, and our hearts remember again the perpetual state of loss of our own and the love that keeps us going, as the stage light goes out with Biasucci living with both the love and the loss.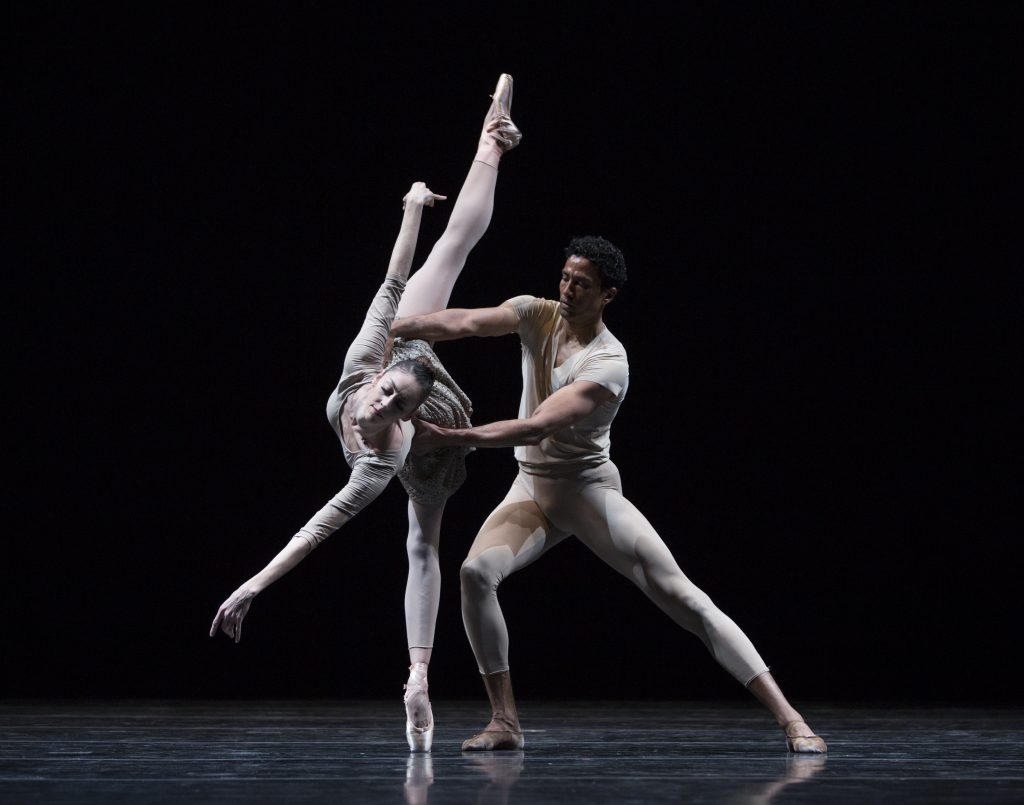 'Slingerland Duet'
Coming right after 'The Perpetual State', 'Slingerland Duet' is perhaps the best choice. An airy and intimate duet, 'Slingerland Duet' easily soothes our hearts that are still beating fast from the emotional journey of loss and love, and continues the celebration of love.
On the opening night, principal dancers Laura Tisserand and Karel Cruz take us on a journey to a seemingly remote land with their tender and gentle duet. Though both of them are of the taller ones in the company, they assume a floating sensation, when they glide through the stage so effortlessly.
With an extension of body through twisting and turning of the body, 'Slingerland Duet' brings ballet into a whole new realm where the ever gentle but seamless movement leaves a sparkling trail in our mind long after the curtain draws close.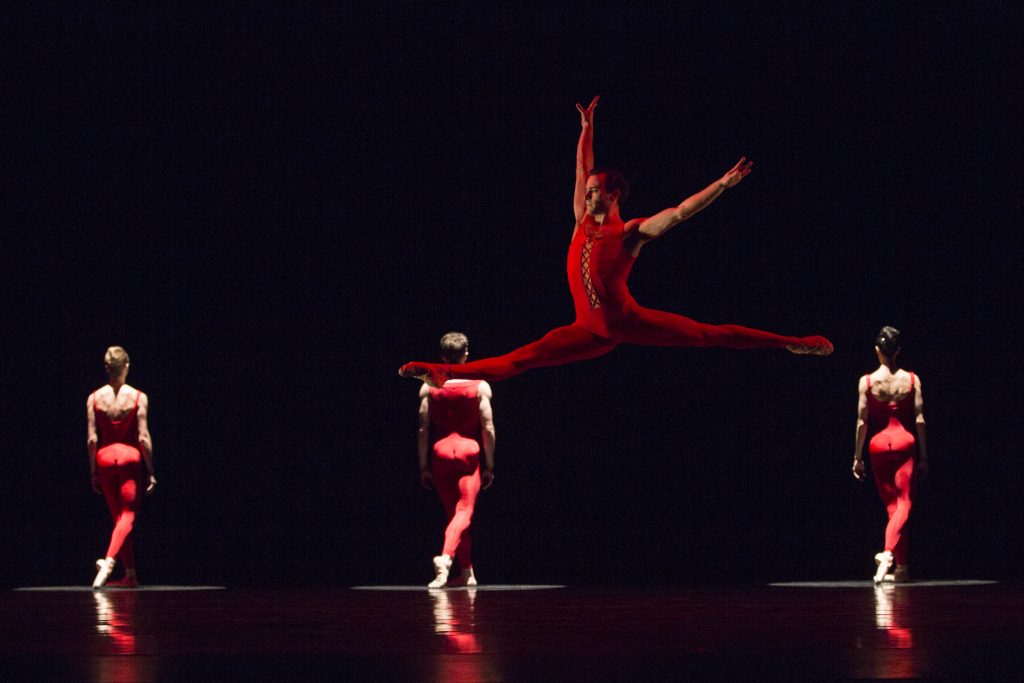 'Red Angels'
Originally choreographed by Ulysses Dove on Boal and other three New York City Ballet dancers in 1994, 'Red Angels' has since become an audience-favorite in Seattle. Since its PNB premiere in September of 2005, this ballet has both fascinated and ignited the audiences and the stage, and this program's four casts of 'Red Angels' are set to dazzle us again.
As a choreographer who had strong women influence in his life, Dove had created a ballet that is exhilarating with violinist Mary Rowell's electrifying performance of her electric violin on opening night. A ballet of only four dancers wearing scarlet leotards, 'Red Angels' is Dove's attempt at dealing with the speed, legginess, and formality of Balanchine aesthetic.
On opening night, four principal dancers, Jerome Tisserand, Lindsi Dec, Lucien Postlewaite, and Lesley Rausch, ignite the stage with some high kicks of their legs, and a balance of extension and sharp movements. Captivating and yet playful at times, this ballet challenges the dancers to take the breath away from the audiences, and to explore a kind of movement that mirrors the tenacity of the electric violin. All these four dancers complement each other, but each has the ability to pin us to the edge of our seats, especially Tisserand, who dances in three different ballets that night.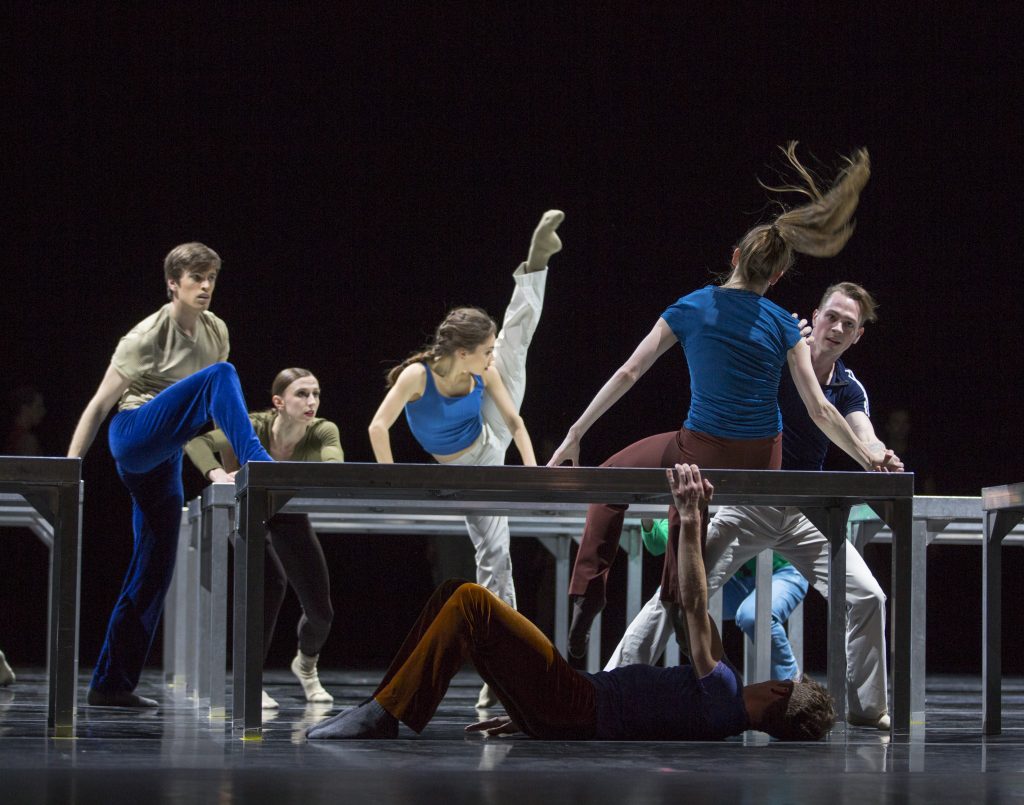 'One Flat Thing, reproduced'
A thriller in the dance world, 'One Flat Thing, reproduced' by William Forsythe is a piece created out of his interest and consideration in the risk and adventure of Robert Scott's Antarctic expeditions and baroque machinery.
With fourteen main dancers dancing around, on, and under twenty tables, it is perhaps the most revolutionary and modern piece of all four pieces in 'Director's Choice', and requires its dancers to work seamlessly together as they all rely on cues from each other to start the next movement.
No longer focusing on their own steps or movements, the dancers now enter a state of interdependence where they eye and hear what each other is doing. A kick, a jump, or a swing of the arm could all be cues that set off the next round of movements. For the first time, we witness these fourteen dancers eyeing each other closely, and absorb an urgent moment when the dance could easily fall apart if a cue or a hand is not given at the right time.
Mirroring the urgency and interdependence of those on Robert Scott's Antarctic expeditions, and the difficulty in staying on top of the broken ice, the piece has the dancers dragging their bodies around or under the table, and fighting with their athletic and fast movements to continue the journey and to 'survive'. The dancers of PNB all devour this ballet, and their abilities to excel in both classical ballet and modern dance mark PNB as one of the top ballet companies around the world.
For more information and to buy tickets, please visit https://www.pnb.org/season/17-18/directors-choice/