By Zita Lam
This is definitely another exciting year for Sound Theatre Company, as well as for audiences in Seattle. After winning a third Theatre Puget Sound Gregory Award for 2017 Theatre of the Year, their newest season showcases a series of plays and events which highlights the diversity of their campaign, "The Human Family."
Last month, Sound Theatre Company partnered with eSe Teatro to present a unique experience that combined art exhibit and musical performance."Imaginary Opus: A Sensory Experience in Two Acts" is a book with lyrics by Rose Cano, directed by Rebecca Tourino Collinsworth, and music by David Nyberg. This four-nights-only show starts with 45 minutes musical about a boy, who seems different in others' eyes, finds his way to express his feelings through drawing.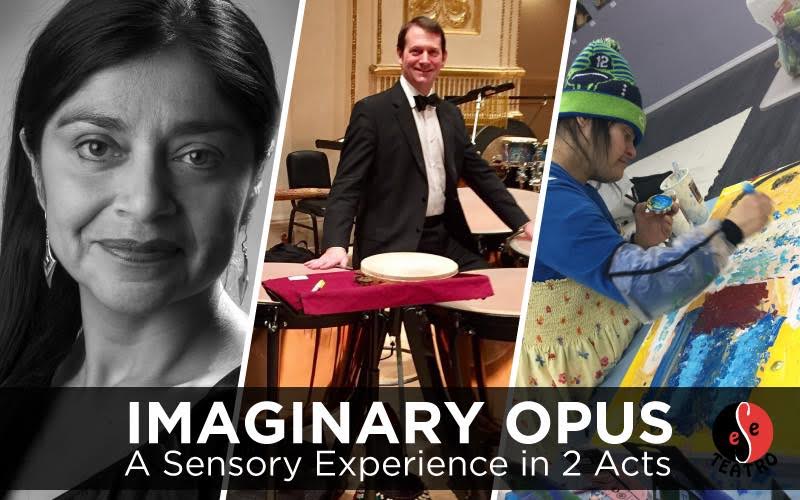 While other kids are having fun on the playground, Boy (Tyler Rogers) sits still with his head down drawing in the sketchbook. "Scribbler" is what they call him. He doesn't speak much and doesn't like to be touched. He tries to fit in with other children but no one seems to understand his imagination. His parents are worried, he can't help but to feel sorry. It wasn't until he met Traveling Girl (Madison Jade Jones) that he realized drawing is his language.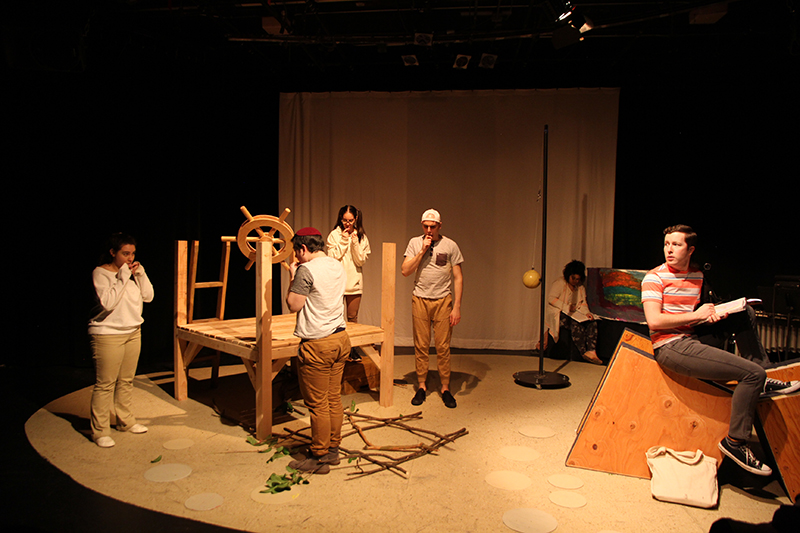 This act is immediately followed by a solo art exhibit in the theatre lobby entitled "I Beg to Differ," by abstract artist Lupita Cano, curated by Venus Brave De Ruedo.
"When I first began this project more than three years ago with David Nyberg, we wanted to share a simple story about the power of art to make us feel special." Rose Cano, who is also the Artistic Director of eSe Teatro, stated in the show program. She developed the story idea based on her little sister, Lupita, who was diagnosed with selective mutism. "Her world turned inward, to her incredible imagination full of friends and 'scribblings' and colors," she writes.
As Lupita has 15 years experience in abstracts painting, especially she once had a solo exhibition in Pioneer Square, Rose believes that using her painting as projections onto the stage can give the show "even greater depth and color."
"I knew this would be powerful, both because of her amazing visual talent as well as who she is as a person," she continued. "The best part is that my little sister is now talking to me after almost three years of silence."
With the help of live music and the plentiful visual presentation, the play successfully delivers strong messages through its well-written plot. The story of Boy connects perfectly with Lupita's world by providing the perspectives from both people who are "different" and people around them. In addition, the acting is fantastic. Boy, indeed, is a rather challenging role who has difficulty in communication and Tyler Rogers did a good job finding a fine line between being cold and experiencing struggles. Rogers presented a complex characteristic in Boy and truly brought the feelings and emotions to the audience. The transition from the play to the art exhibit was genius. Overall, it was a very sensational experience. However, if there's one thing to criticize, it would be the volumes of the mics are too low – I had a hard time hearing and I sat in the second row.
About Lupita Cano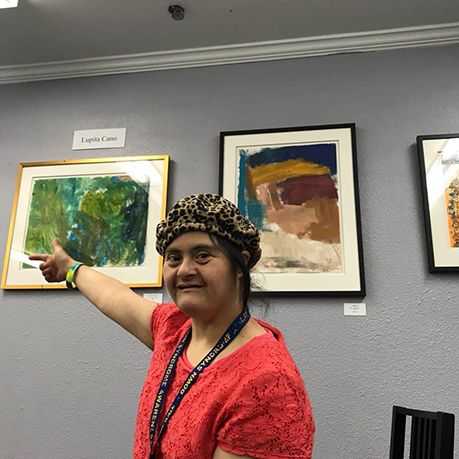 Lupita Cano is a self-taught abstract painter who loves to share her unique perspective of the world through her art.
Lupita, who happens to have Down Syndrome, was born and raised in Seattle as part of a close-knit Peruvian family that valued and encouraged creative expression.
After graduating from high-school she began to search for a job that would satisfy her bold personality and unfettered imagination.During this time she began painting for recreation and soon discovered that this was her passion and her calling. With the support of her family, friends and her job coach, Lupita launched AE Designs by Lupita, selling note cards reproduced from her original paintings.
Today Lupita's work is exhibited and sold at art walks, craft fairs, gallery shows, coffee shops,
regional and national disability conferences, fundraisers, through retail shops and online. Lupita also contributes to her community by donating her work to charitable causes.
As a disciplined artist, she has devoted countless hours over the past 20 years to develop her natural talents. Her preferred medium is acrylic paint, although she enjoys experimenting with various mediums and techniques. Her style could be described as exuberant, deep and layered. She is fearless in her use of color and does not subscribe to any rules or boundaries the would contain her artistic vision.
Lupita paints at the Museum of Special Art (MOSA) open studio, and at her home. She enjoys being a business owner, contributing member of her community, and an inspiration to others. Lupita encourages others to "listen to their hearts and take a chance".