By Tracy Wang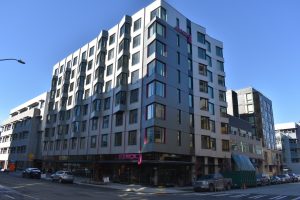 Moxy Hotel, a brand of Marriott International, opened the door of its first West Coast location on February 21st in the South Lake Union neighborhood near Seattle Center. Moxy Seattle is a boutique hotel that has the feel and design of an urban campsite, complete with 146 rooms, and a living room area, which includes a bar and a conversation pit. Music fills up the first floor lobby area, and a variety of games are waiting for some players to sit down and enjoy. With its focus on fun, and targeting millennials, Moxy Seattle is surely going to thaw some of the 'Seattle Ice' that has been said to be freezing this city.
Moxy, derived from the word 'moxie', has the meaning of 'somebody who has a bit of a flair, a little bit of flash', commented Jerry Stotler, captain of Moxy Seattle. To signal and represent the fun and the sense of breaking rules, Moxy chooses to use 'y' instead of 'ie'. Started in Milan in 2014, Moxy is then purchased by Marriott International, and has since been bringing fun and joy to many cities around the globe.
The United States currently has six Moxy that are open, and thirty eight more are set to open in the coming years around the world. Though every Moxy is similar in 'how they maximize minimal space', every Moxy has a different style that fits the city it is located in. Famous for its abundance of forestry and nature, Seattle is being called 'a forest' by Stotler, and thus it has the feel and design of an urban campsite where most of the furnishing has the feel of the woods. With glass windows reaching to the floor, the amount of natural light is similar to that of a real forest.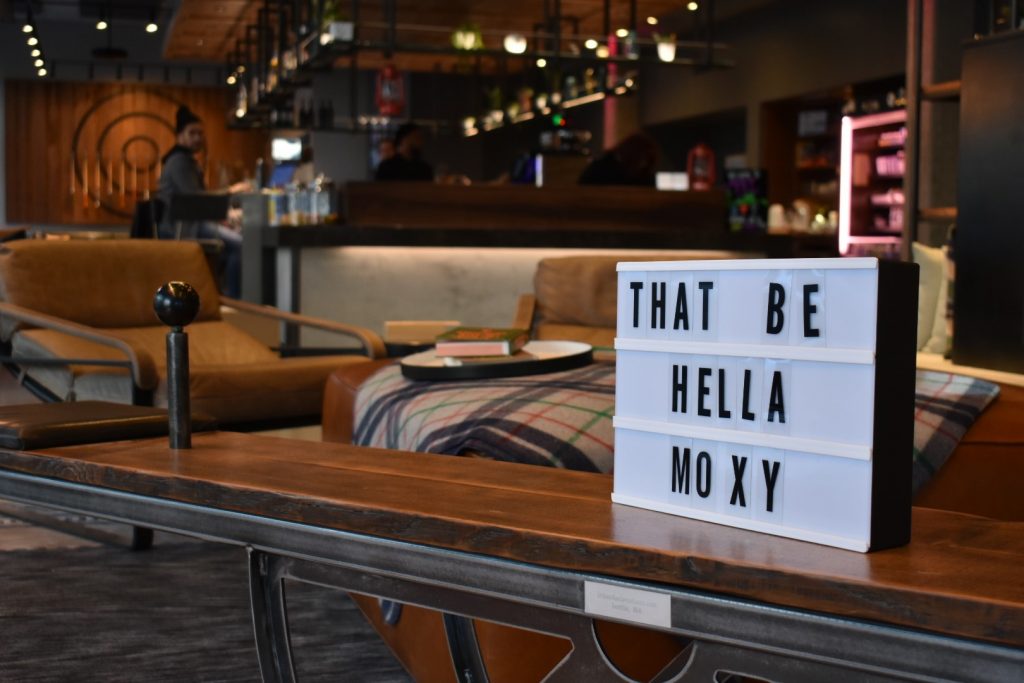 All the forestry feel of the furnishing gives out a welcoming note, and the variety of games on the floor, including a working teeter totter in the lobby entrance (the first hotel teeter totter in the Pacific Northwest) that invites anyone who has a fun-seeking spirit, or is in need of some relaxing moments beside the bar to come and play. Other than the more-than-usual amount of seating space and games, Moxy Seattle has every guest check in with a bartender at the bar. Long gone are the days of checking in at the front desk; at Moxy, guests are welcomed with a Moxy cocktail, and greeted by the bartenders who assume multiple job titles that include the bartenders and concierges.
At the back of the bar, a big screen displays the Moxy Guestbook, which is showing what people are doing at different Moxy around the world. Guests could take a look at all the fun things available at different Moxy, create some lasting fun memories of their own, and share them by tagging #atthemoxy on instagram.
However, the surprise does not end on the first floor; as soon as guests enter the elevator, they see the back of a huge backpack that is filled with treats. Similarly, guests are greeted with pink lipstick messages on the mirrors in the rooms. Intimate and personal, the lipstick messages are a signature gesture of the Moxy brand.
With only 146 rooms in total, Moxy Seattle tries to 'maximize minimal space', and design rooms that 'got everything you need and nothing you don't'. The design of the rooms is revolutionary in that it breaks away from traditional hotel rooms that look and function in similar ways. Targeting the millennial travelers and those who are young at heart, the rooms do not have any closets or drawers that are typical, but often unused, in a traditional room. Clear that many of its guests will just drop their luggage in the room, and then go out for business meetings, or some sightseeing, Moxy puts up a hook system, instead of a storage space, where guests can just hang their clothes on the wall. The lack of use for a desk in the traditional rooms also have Moxy make a desk that can be folded down from the wall.
These design changes all make Moxy into one-of-a-kind hotel experience, but the fun does not stop there. Every room of Moxy has a whimsical vintage telephone; the bottom lever allows guests to access three entertaining bedtime stories. The 'state-of-the-art' TV in every room can be connected to cell phones and tablets, and guests can watch anything or any channel that can play on their electronic devices.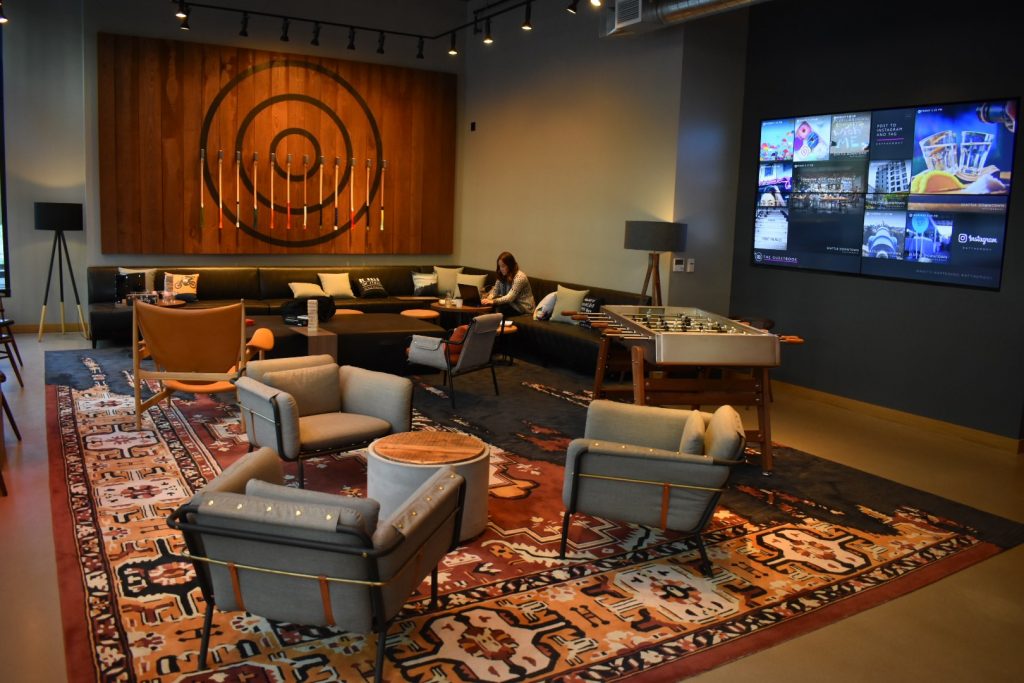 The simple but stylish decor and design in the room as well as the lobby area gives off a fashionable and exciting vibe. Since Moxy is targeting millennials, 'the fastest growing travel population', it is 'designed for that person who is always on the go', and those who are young at heart and ready to have some fun.
The popularity of Airbnb has an impact on hotel industry, but Moxy is 'more of a full service Airbnb' where it has a bar in the lobby, many other fun, interactive activities, and some awesome dining choices around it. To incorporate fun spirit into every aspect of the hotel, the hotel crew does not say 'thank you for calling Moxy, when they pick up phone; instead, they choose to greet them as if they were friends. Since Moxy is a boutique hotel, and the crew has no name tags, every crew member has a better chance of remembering the names of the guests, communicate with the guests as humans, and make the whole experience much more intimate.
The saying of 'Seattle Ice' has been going around for a long time, and while it may differ from person to person, and place to place, Captain Stotler and Moxy Seattle are ready to fix that. With no front desk person or even a front desk, 'we are here to connect, to engage'. Before its opening, all the crew members had gone through training that taught them how to read and engage with people who have different moods and personalities. By understanding their guests better, they strive to better serve and be the right company for their guests.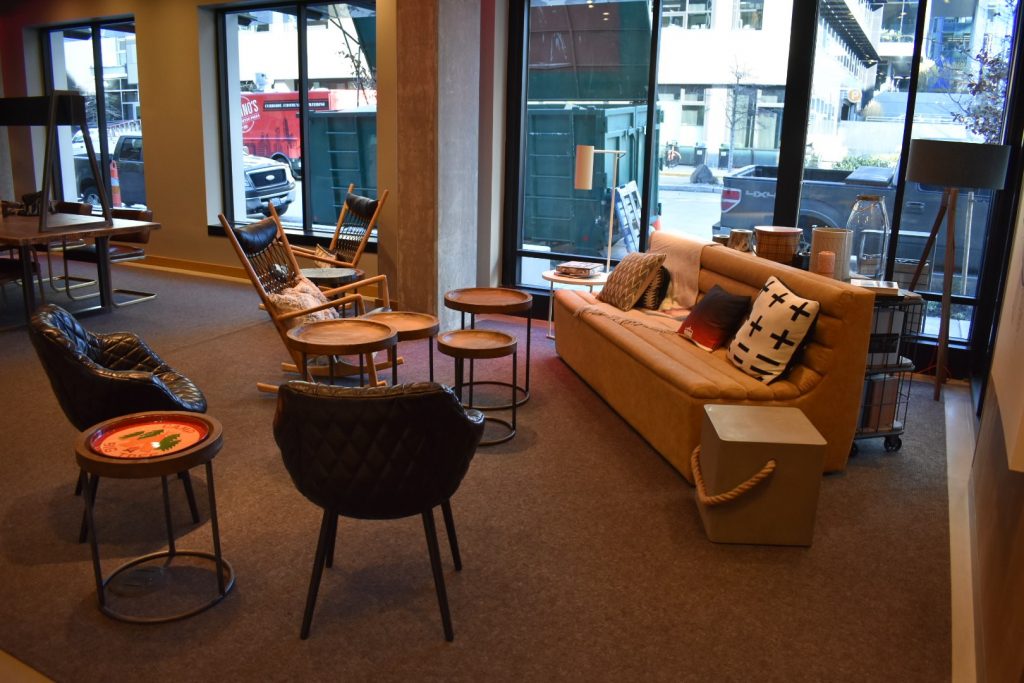 'Kind of a public library space' throughout the day, Moxy Seattle offers a new and unique location where co-workers could meet up for a meeting, friends could play some games together, and couples could have a romantic afternoon or night out. It is a place for people to relax, and have some fun in Seattle.
Moxy Seattle is on the path to enchant more visitors, and help them create even more lasting and interesting memories. As the hotel sets its foot more firmly in Seattle soil, it will not only create a new space for people to gather and enjoy, but also add events such as Thursday's Seattle Music Showcase that introduces more of Seattle's charming culture and environment to the world.
For more information on Moxy Seattle, please visit: http://moxy-hotels.marriott.com/en/hotels/seattle-downtown