By Tracy Wang
Applauded by many audiences as one of the best programs at Pacific Northwest Ballet (PNB), 'Emergence' is running at McCaw Hall till April 22.
A triple bill of the audience favorite, 'Little Mortal Jump', a PNB premiere, 'RAkU', and Crystal Pite's haunting swarm of insects, 'Emergence', 'Emergence' is set out to present us with a night of an emotional roller coaster, from the playful, and yet haunting 'Little Mortal Jump', the despair and resilience of 'RAkU', to the power and determination of 'Emergence'.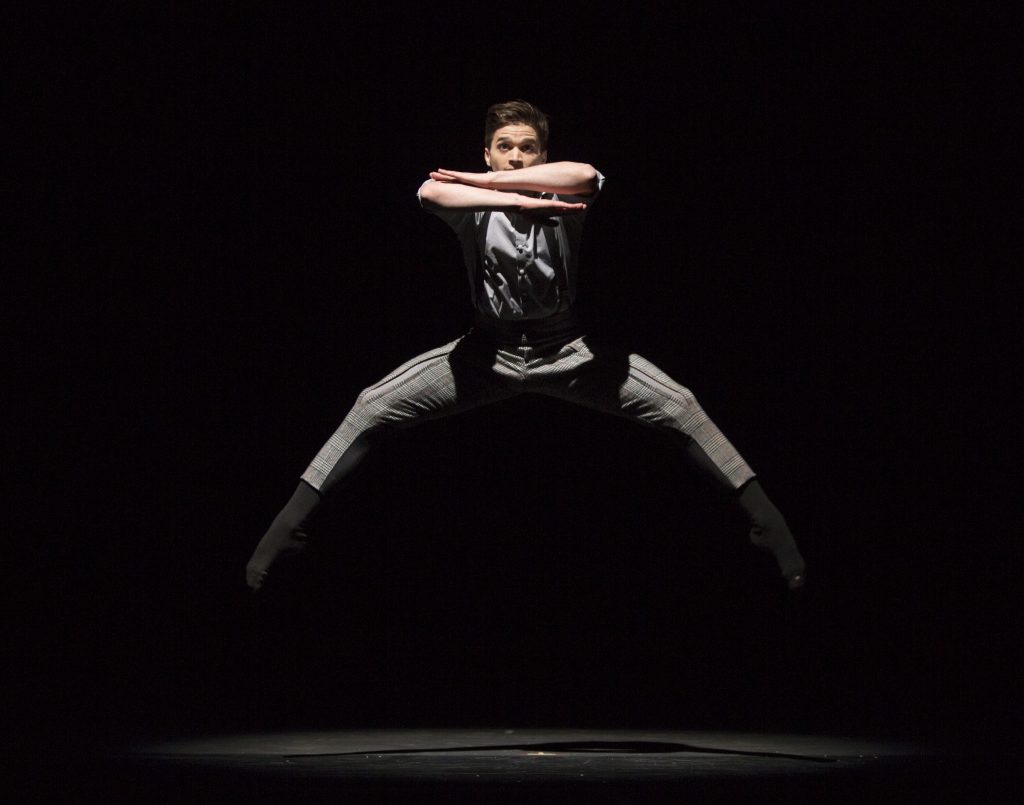 'Little Mortal Jump'
Since its PNB premiere in 2016, the audiences in Seattle have been waiting for its return. A ballet by Alejandro Cerrudo, 'Little Mortal Jump' is composed of four large black boxes onstage and at least six scores, which put together, create a unique sense of coherence, and continuity.
Started out as playful, and teasing, the ballet first takes our breath away, when Price Suddarth jumps into the orchestra pit. A recently-minted soloist, Suddarth takes on the role of a playful lover, who is all too ready to have a little fun with his partner. Comprised of four main duets, Cerrudo allows its first two duets to be of the tenderness, the curiosity and the joy of a romance, but the last two strip their own sugar coating, and dives right into a much more complex and serious realm.
Still two dancers playing off of each other, principal dancer Jerome Tisserand and Corps de Ballet member Elle Macy showcase athleticism and lyricism, and the pair continues the act of pushing aside the two adjoining black boxes behind them. Completely mesmerized at this point already, we continue to be haunted by Max Richter's 'November', along with the cinematic dancing of principal dancer Elizabeth Murphy and Corps member Dylan Wald. Seemingly chased by some unknown beasts, and crowded in by the four ever closer boxes, Murphy and Wald act as the final pair who breaks the uniformity of the boxes, and disappear among the revolving boxes, who are the last dancers on stage.
At times dancing in unison, and at times dancing to a different drum, the dancers seem to be thrown into a dream, a constant battle in fighting the many societal forces that shape us, and change us. We assume the roles of the dancers, and feel exhilarated when they push aside the ever-crowding-in boxes. A restless dream that is at the same time romantic and life-altering, 'Little Mortal Jump' mirrors a classic cinematic experience, and gives us the courage to be ourselves despite the many factors that desire to change us.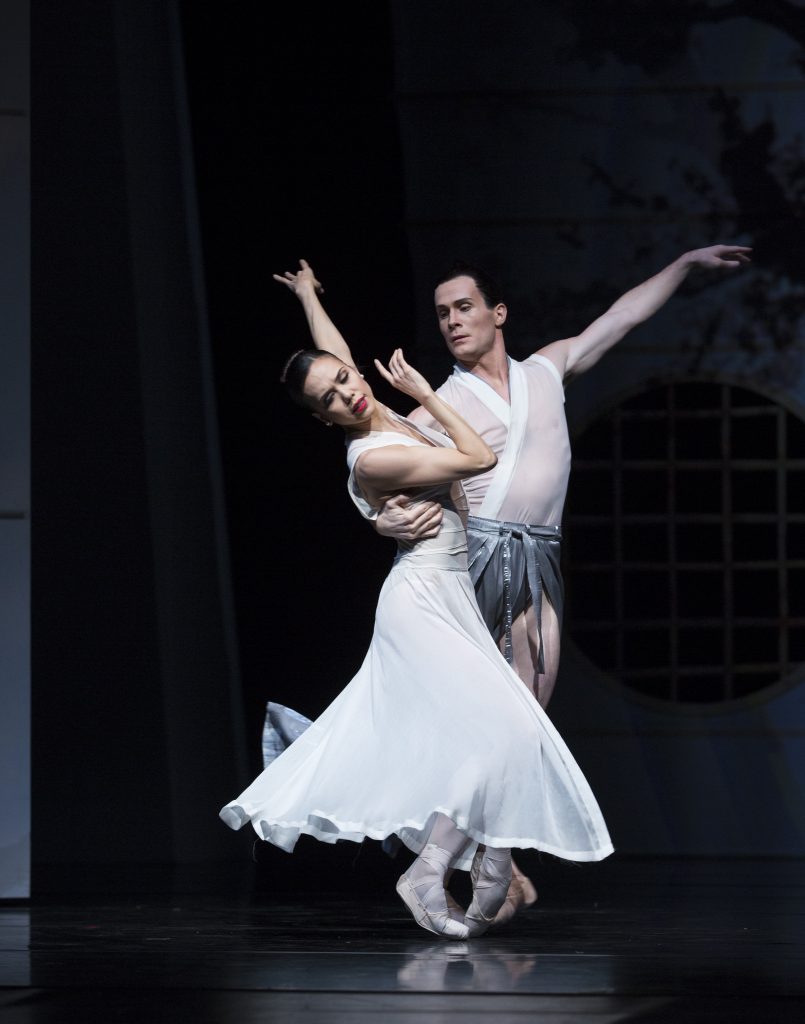 'RAkU'
Premiered at San Francisco Ballet in 2011, 'RAkU' is choreographer Yuri Possokhov's attempt at deciphering what really happened behind the true story of the burning of Kyoto's Golden Pavilion in 1950. The final product, a full-length ballet told in 36 minutes, is a heartbreaking story of grief, despair, separation, jealousy and violence.
The ballet begins with the monk and four warriors on stage; a happily married couple, the princess and her samurai husband's peaceful life is interrupted by her husband being called to war. Left in the care of the monk, the princess tries to escape his attention and love, but their interaction ends in sexual violence. Soon afterward, the princess is told that her husband died at war. Left alone with her husband's ashes, she dances one final time, and kills herself with her husband's sword.
Paired with Shinji Eshima's tender and violent score, 'RAkU' is brought beautifully alive by principal dancer Noelani Pantastico (the princess), Seth Orza (Samurai husband), and soloist Kyle Davis (the monk), on opening night and Saturday matinee performances.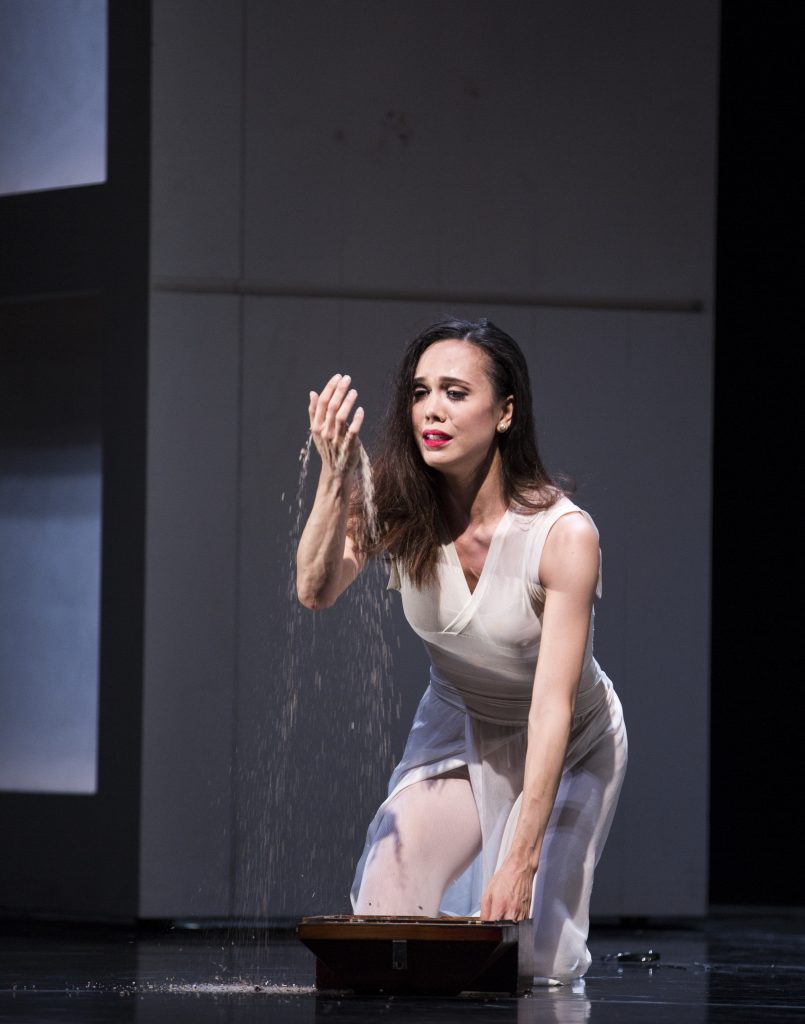 A dancer who is rich in her lyricism and performing emotional roles, Pantastico has transformed herself into a princess who is at first reserved and quiet in loving her husband, but becomes one who is taken by grief and despair, when tragedies strike. Every movement and facial expression of hers is crafted with the uttermost respect for a woman who has lost everything, and who has experienced almost every emotions out there, and when in the last scene, she dances one last time with her husband's ashes, imitating their former dance, our hearts break along with hers, and we remain awed by Pantastico's delicate portrayal of a character who is angry, loving, grieving and most of all, powerful.
Similar to the heartfelt performances by PNB dancers, the ballet itself is also crafted beautifully, with the prologue of the monk creeping down the stage, foreshadowing what is to come later. A ballet that deals with the themes of sexual assault, war, death and suicide, 'RAkU' earns a standing ovation on opening night, and is surely going to stir some necessary conversations among the audiences.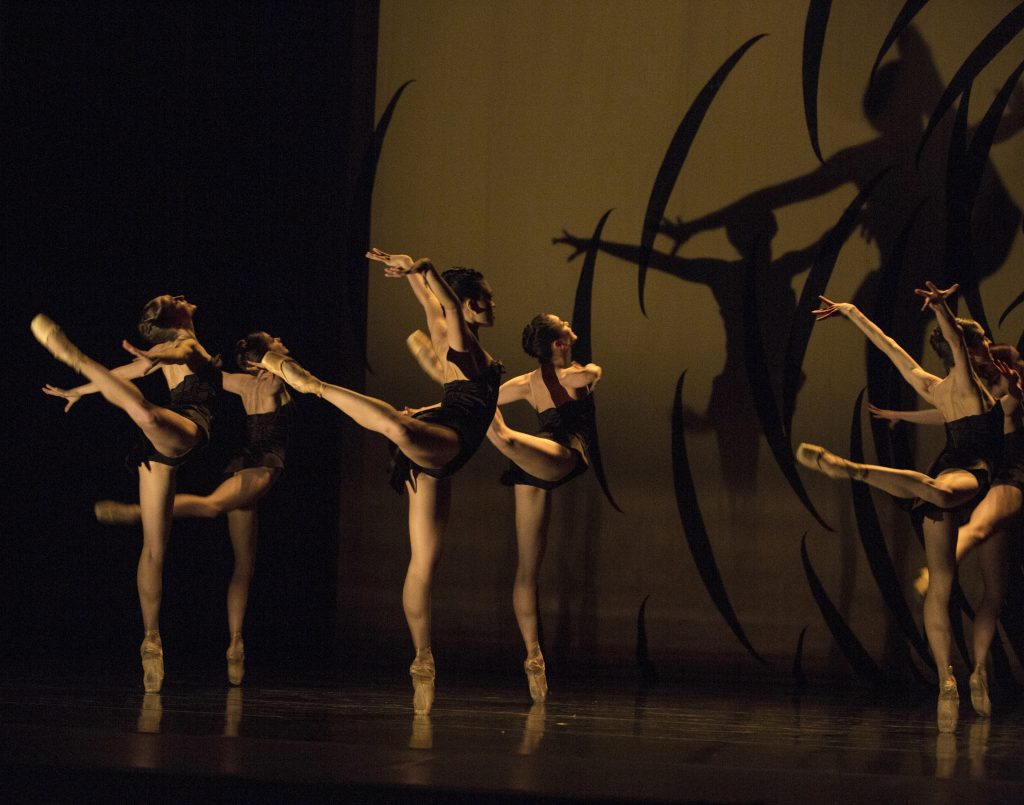 'Emergence'
A returning work by Pite (who choreographed PNB's 'Plot Point' last fall), 'Emergence' is first commissioned by the National Ballet of Canada, and premiered at PNB in 2013. Dealing with human's need in creating social forms and order, it is set to Owen Belton's atmospheric score. Surrounded by the singular mechanical sounds, we are instantly thrown into the swarming insects on stage and in our ears.
At one point covered in black masks, and with arms and hands always buzzing as if they are wings, the dancers take on an inhuman quality where we are forced to confront our need in having forms and order. The insect-like dancers attack the stage with precise forms and formations, and very specific angles and positions of arms and wrists.
No longer people we can identity, but having the undeniable appearances of human beings, we experience something uncanny, and eerie, that silences the whole room, and we are confronted with some ethical questions that are prevalent in many fields of society: what or who have we become in the current society?
For more information of 'Emergence' or to buy tickets, please visit: https://www.pnb.org/season/17-18/emergence/