By Tracy Wang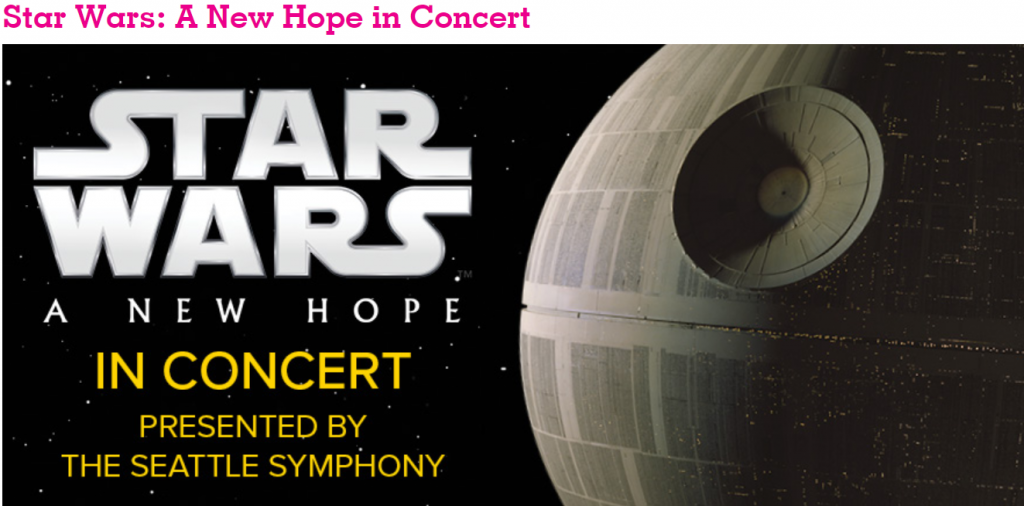 A Korean American born in California and grown up in Pennsylvania, Lawrence Loh is a versatile conductor who also serves as the music director for Symphoria and the West Virginia Symphony commencing in the 2017-18 season. Growing up in a family in which his mom taught Suzuki violin and with his first introduction to the sound of the orchestra through Star Wars, Loh has background in both classical scores and modern film scores that has led him to conduct pieces both by Beethoven and John Williams. This July, from July 13 to 15, Loh will be conducting Williams' iconic score of Star Wars: A New Hope along with Seattle Symphony at Benaroya Hall.
A kid growing up surrounded by music, Loh began his music journey at three, when he started to play the violin and piano. Since his mother taught violin, he was constantly basked in various pieces of music and witnessed students coming and going in his house. When he was in high school, he became a drum major of his high school's marching band, and began to acquaint with the idea of conducting. Believed him to be a music leader, his marching band director David Rohrer first gave him the idea that he could follow the career path of a conductor. However, it was not until he took conducting for non-majors his senior year did he start to fall in love with conducting, and began to seriously think about conducting as his career path, since 'it was a great synthesis of my analytical interests and my performance interests'.
With his training at the University of Rochester, Indiana University, Yale School of Music and additional training at the Aspen Music Festival, Loh was officially on the road to become a conductor and even music directors of several symphonies.
A conductor who conducts nationally and internationally, Loh admires his Pittsburgh mentor and Music Director Manfred Honeck and his first Music Director and mentor Marin Alsop of the Baltimore Symphony, and has developed what he believes a conductor's duties are. 'The most effective conductors have a very strong mind about their interpretation of the music because there are 80-100 musicians on that stage who all have their own distinct and separate musical beliefs, and someone, the conductor, needs to guide a singular interpretation of the music.' However, other than solely being the guide who needs to decide on the interpretation of a score, Loh also recognizes the importance of collaboration and conversation with the musicians. Coming from all music backgrounds and all having separate music beliefs, the musicians are an invaluable asset in bringing forth their ideas, and after hearing them, it is Loh's duty in 'finding the best path forward that is still distinct and clear'.
Having been a music director at various symphonies, Loh is currently the music director for Symphoria and the West Virginia Symphony commencing in the 2017-18 season. As both a conductor and a music director, Loh has become familiar and responsible for duties both on and off the podium. As a conductor, Loh's duties 'are contained in the preparation and execution of the music, so careful preparation before the rehearsals begin, followed by leading rehearsals and then conducting the concert'. However, a music director's duties are much more comprehensive in that he acts as the artistic leader of the organization. No longer just preparing and conducting a concert, his duties include 'guiding the overall vision of the orchestra, helping with fundraising and strengthening community relationships, planning the season, helping to choose the repertoire and guest artists and conductors, revamping the various series and subscriptions, and speaking at public events as an advocate for the orchestra and for the arts in general'.
Other than conducting classical scores, and fulfilling the duties of a music director, Loh is also adept at conducting concerts synchronizing live orchestral music with film, and has conducted some major productions such as Jurassic Park, The Wizard of Oz and Singin' in the Rain. Though he still uses his conducting gestures to lead the concert, he is now 'restricted by the film on tempo and interpretation'. While he has room to change the tempo or let the music unravel naturally when conducting a classical piece, his goal in a concert of film 'is to make the music as similar in tempo and interpretation to the original soundtrack'.
Concerts synchronizing live orchestral music with film are on the rise to popularity, and Seattle has witnessed many moments of great films being conducted live recently. As an important member of this new wave, Loh is excited to bring the music in these films alive, because he believes the music in films can do something visuals and dialogues cannot achieve. To him, the music has the power to evoke emotions and to be able to introduce audiences to the sound of orchestra through film is monumental.
From July 13 to 15, Loh is going to bring the score of Star Wars: A New Hope alive right here in Seattle, and after his Seattle appearance, he will be leading concerts this summer at Sun Valley Music Festival, San Diego Symphony and Indianapolis Symphony.
For more information or to buy tickets, please visit: https://seattlesymphony.org/concerttickets/calendar/2017-2018/symphony/star-wars