By Tracy Wang
Food:
Xian Famous Foods (https://www.xianfoods.com/)
Thirteen locations in total, Xian Famous Foods is a sensation in NYC, and people can almost always find it somewhere near them. A restaurant that people order at the cashier, it has limited seating, and imitates what it feels like eating on the street. Some of the most delicious and popular choices are stewed pork burger, spicy cumin lamb burger and its hand-ripped noodles. It also has some tea drinks or Chinese style soy milk on-site.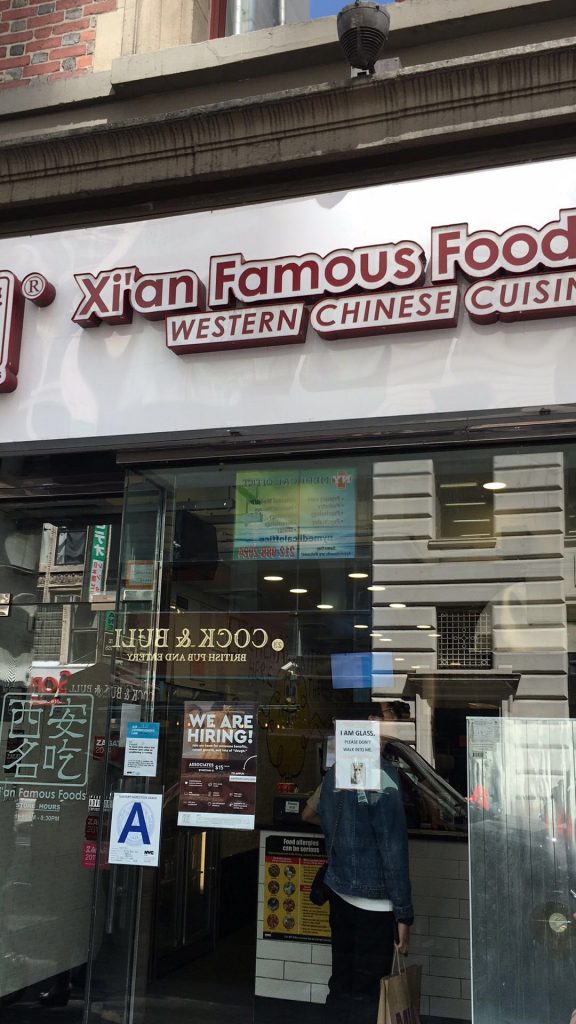 Shake Shack (https://www.shakeshack.com/)
Shake Shack is like a must-go restaurant if people are looking for a quintessential New York experience. Started as a hot dog cart, Shake Shack has grown to be a chain restaurant. Often packed with locals and tourists, it is better to go there during non-peak hours or go to the one in Dumbo, Brooklyn. Its most special burger is definitely the 'Shroom Burger, in which meat patty is changed to crisp-fried mushrooms, and the cheese fries are also a highlight, though people who are on a diet should not try. With all the cheese and burgers going on, a glass of Fifty/Fifty™ (half lemonade, half iced tea) is truly refreshing.
Maman (https://www.mamannyc.com/)
Maman in SoHo is a quaint little cafe that looks cozy and classic. Its highlight remains on its menu where people can find Lavender Chocolate (hot cocoa with a distinct flavor of lavender). All the paper cups have beautiful designs, and the cafe offers a huge variety of savory and sweet snacks and meal choices (sandwich, salad, quiche, cookie, cake) that are of very special flavors.
Sightseeing / Performances / Shopping:
Lincoln Center
Right in the Upper West Side is the Lincoln Center Plaza where world famous ballet and opera take place. From George Balanchine's New York City Ballet (NYCB) to American Ballet Theatre (ABT), people are going to be bombarded with neo-classical and classical ballet. Located inside the modern but poised David H. Koch Theater, NYCB represents some of the most significant 20th century American dance, while ABT resides in the Metropolitan Opera House that feels gilded and classic. People who are looking for an American-specific experience should go for NYCB, but people who are looking for all the classical ballets (Swan Lake, Romeo and Juliet…) should definitely go for ABT. Other than the theatres dotting the plaza, a grand fountain resides in the middle of them all, and is a perfect spot for some photo-shooting.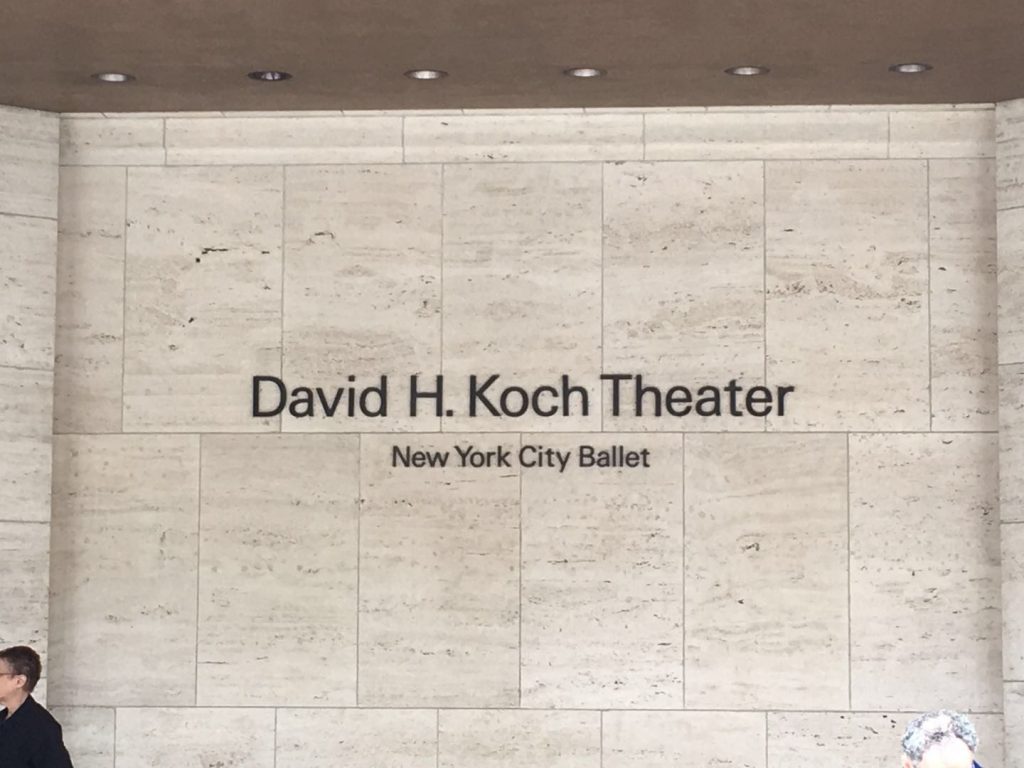 Majestic Theatre
Fans of Broadway's longest running The Phantom of the Opera should definitely pay a visit to Majestic Theatre which has housed this production since its opening in 1988. The interior design has the power to instantly plunge you into the realm of a long-standing theatre. Complete with the cast change posted on the door and two gift shop stands selling all phantom-related products, the production itself is breathtaking in the splendid sound system, set and Andrew Lloyd Webber's score. All around this theatre are many theatre-related shops and restaurants. Audiences begin to line up very early, but if your tickets are at will call, you get to enter as soon as you get your tickets.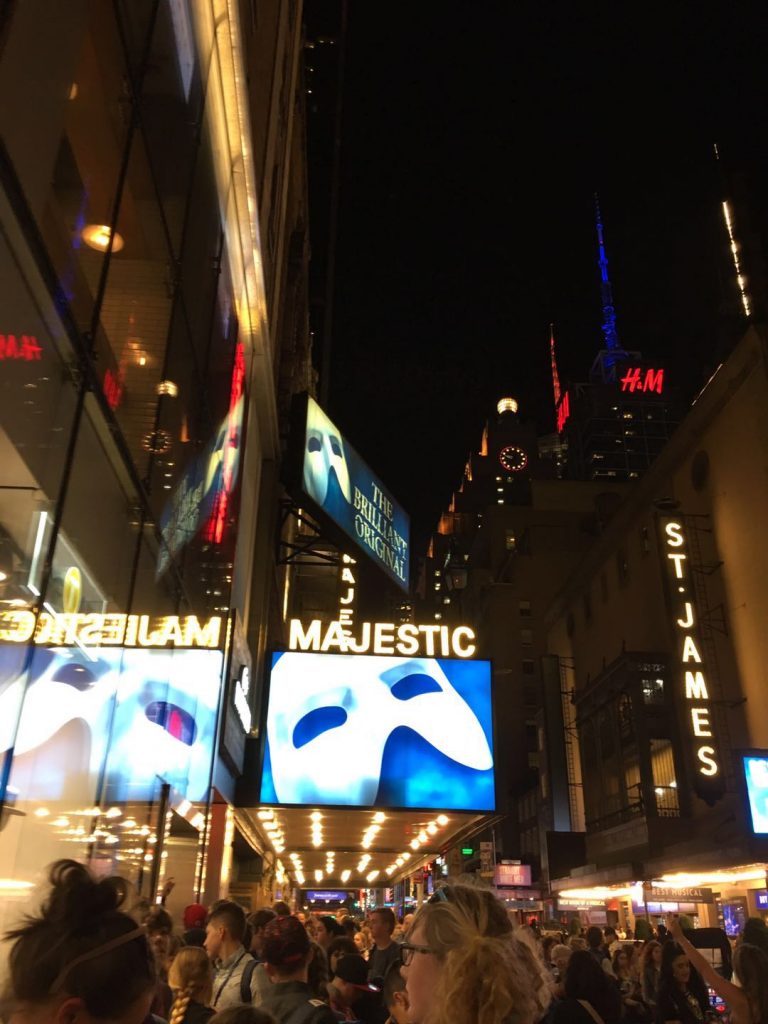 Neue Gallerie (http://www.neuegalerie.org/)
A museum dedicated to early 20th century German and Austrian art, Neue Gallerie (New Gallery) at Upper East Side houses many pieces by Gustav Klimt. Among those is his Adele Bloch-Bauer I, the painting featured in the movie Woman in Gold, which tells the painful true story of how that particular painting was stolen during WWII. On the ground floor, its gift shop has plenty of books, dvds and other materials on art and many stories of its collection.
Chelsea Market (http://chelseamarket.com/)
Chelsea Market is a whole building dedicated to food and shops, and it is constantly buzzing with all the tourists milling about. Every corner is crammed with food stands (wine, bakery, ice-cream, chinese-style noodles…), and there are very limited seatings. LOS TACOS No.1 has the best tacos; though each taco is tiny, it has lots of flavors and ingredients inside. The grilled steak one is the highlight. Doughnuttery, the mini doughnut store, has bite-size doughnuts in many interesting flavors (Green Tea, Pumpkin pie brulee, and even apple cider). Crepe lovers should definitely visit Bar Suzette, though one of its crepe could very well be a lunch by itself. The spinach & cheese one is very good. Other than food, people can find a Posman Books and a craft market here too. Posman Books sells some fun and creative stuffs (pins, cards…), and the craft market has prints, bags, jewelries, phone cases and many more.
Artist & Flea Market in SoHo
Located in SoHo, this Artist & Flea Market is very similar to the one in Chelsea Market (some shops are the same), but it also has a mini version of the Strand Bookstore which is selling half price books. People can find a variety of books in good conditions.
Housing Works Bookstore Café (https://www.housingworks.org/locations/bookstore-cafe)
Right beside the Artist & Flea Market in SoHo, Housing Works Bookstore Café is full of surprises. The bookstore sells many genres, and the price is very reasonable for second hand books, CDs, and DVDs. It has several short bookcases of books that are only a few dollars. Some tables are in the middle of the bookstore for seatings, and there is a cafe right inside the bookstore.
Interesting Brands or Stores:
Min & Mon (https://minandmon.com/)
Started in 2015, Min & Mon is a handbag label that is quickly on the rise. Currently available online and in SoHo and Chelsea's Artist & Flea Market, its own store instead of stand on 55 Spring Street recently opened. It currently sells tote bags, clutches, crossbody bags, charms, wallets and many more. Every bag is full of color (bright red, green, yellow) and different. The color combination varies greatly and is full of contrast. The ones with fur are especially fun, because the pattern of color of the fur varies, so it is always a surprise as to which one you will get if you order online.
Marc Tetro (https://marctetro.com/)
Marc Tetro sells some simple-looking but cute bags, keychains, and prints that feature dogs. It was not easy to find this brand in NYC; it has a location in Macy's, but it does not carry the whole product line. Luckily, PIQ, a shop full of designer toys, gifts and accessories, has all the products on dachshunds. People can find its products online, but they can find the special patterns of dogs in NYC here.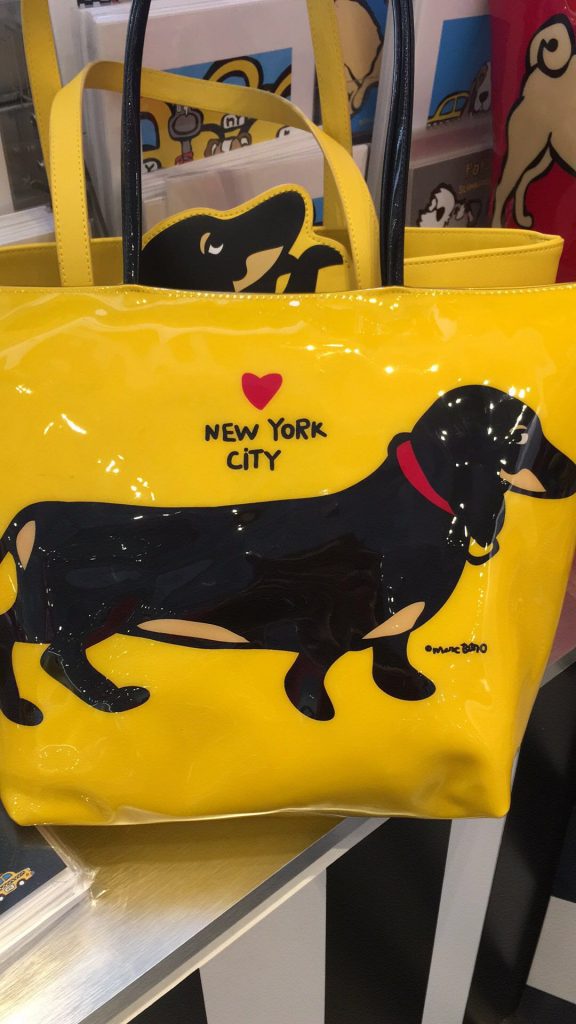 NODÁ DESIGN STUDIO
We found a small stand of this studio in Chelsea's market, and like Marc Tetro, it is a heaven for dog lovers. All of its products, phone cases, keychains, coasters, and some others, have patterns of different breeds of dogs (Dachshund, Shiba Inu, Frenchie…). Almost all the products are made on sustainable woods, so the products have a strong feel of design and craft. If people want some NYC souvenirs, they can also find some wood products with engravings of NYC and its many sightseeing locations on them.