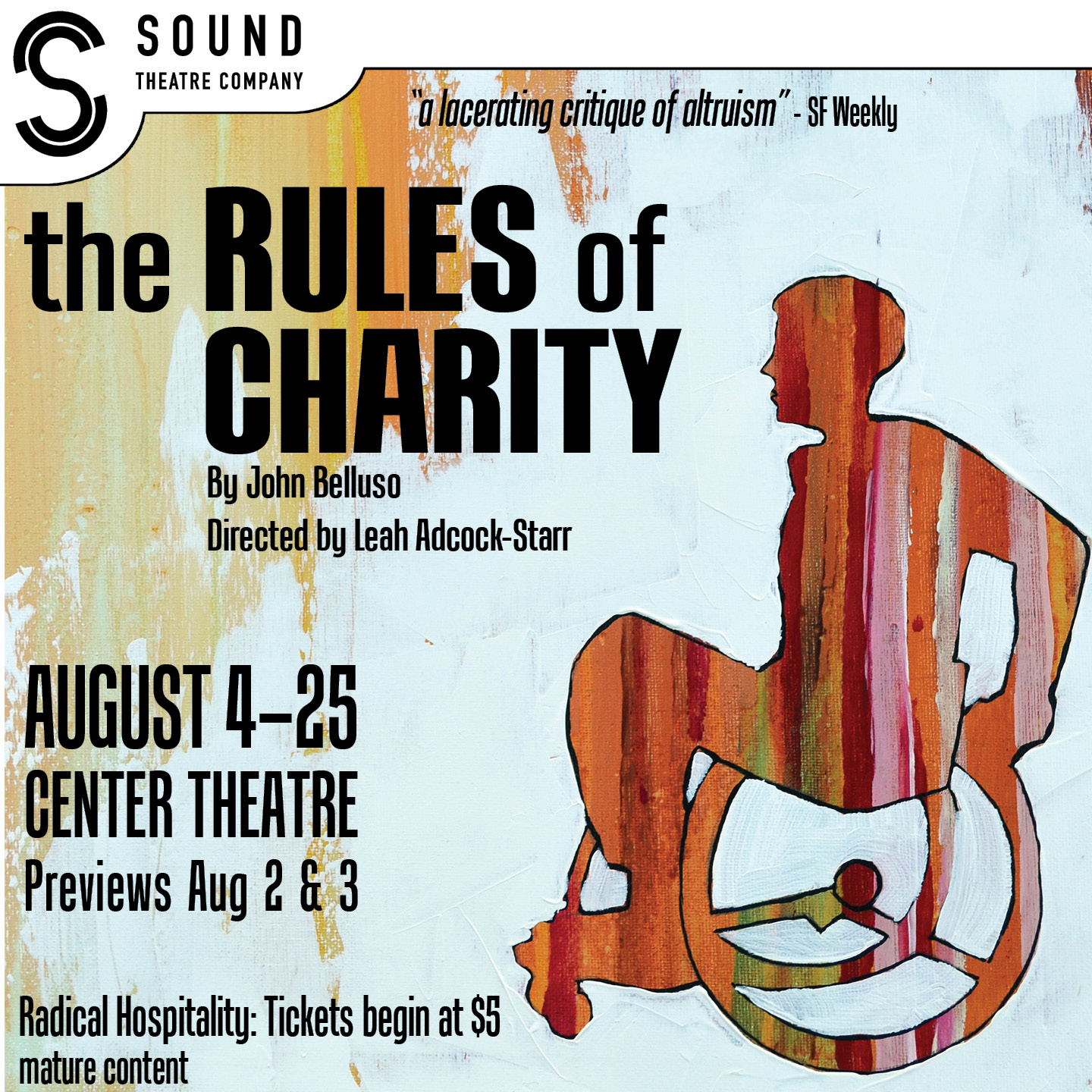 Sound Theatre Company continues their 2018 season The Human Family: Towards a Radical Inclusion with the Seattle premiere of The Rules of Charity . The older generation clashes with the younger in this provocative and subversive play by the late John Belluso, a playwright who championed honest portrayals of people with disabilities.
Monty, a brilliant, queer father who has Cerebral Palsy and uses a wheelchair, spars with his caretaker daughter in the haunting relationship at the heart of this play that examines what it means to be disabled and marginalized in modern American society.  In this Seattle premiere, Sound Theatre forges a new path for local audiences as it highlights authentic narratives that emerge from lived experience.
Sound Theatre Company's Artistic Director Teresa Thuman, acknowledges that this is new for some Seattle audiences.  "For years the Seattle theatre-going community has been engaged in a meaningful discussion about diversity on our stages. This is an ongoing and ever-expanding process and we at Sound Theatre are thrilled to usher in a new experience of inclusion."
The Rules of Charity will perform August 4 – 25 at the Center Theatre at the Armory with new Radical Hospitality ticket pricing from $5 – $75 for all seats and all performances.
About the director
Leah Adcock-Starr is a theatre director, educator, scholar and a Midwest transplant to the Pacific Northwest. Recent directoral adventures include Caroline Bird's TROJAN WOMEN (Civic Rep – WA), an all female HAMLET (Theatre Unbound – MN), TWELFTH NIGHT  (UW – WA) and an original play with shadow puppets and dance inspired by the life and work of JM Barrie for the 2016 Seattle Fringe Festival, co created with her husband and favorite collaborator, Kieran. As a teaching artists for Foundry10 and Bellevue College, Leah's work focuses on interrogating the 'classical' canon, arts equity, identity exploration, and story as a catalyst for social change.  Leah is the founding Artistic Director of Off Road Shakespeare, a traveling ensemble of artists, activists, and clowns that tour brave and beautiful productions of Shakespeare's plays to public spaces, housing shelters, community centers, and libraries throughout the Seattle Metro Area. Off Road plays for free, for all. Leah holds BA's in Theatre Arts and Theology from Hamline University and an MFA in Directing from the University of Washington School of Drama.