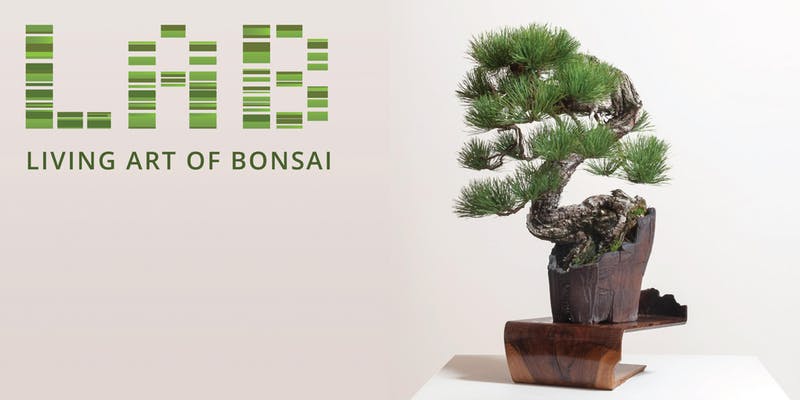 Exploring the intersection of bonsai, architecture, design and art, Spaces of Liminality: Enter the LAB is the exclusive first performance of the LAB (Living Art of Bonsai). Guests will witness the creation of a living sculpture and watch as three renowned artists resequence traditional bonsai practices under the influence of a work of an iconic American architect, Frank Lloyd Wright.
Pacific Bonsai Museum's LAB is an experimental collaborative for bonsai design innovation. This multiyear endeavor kicks off in 2018 with its inaugural LAB project investigating sequence. The project will reimagine traditional bonsai practices by resequencing the order of influence between the bonsai artist, ceramicist, and standmaker.
This year, bonsai artist Ryan Neil, ceramicist Ron Lang, furniture maker Austin Heitzman, and moderator Aarin Packard will join this participatory event. Guests can engage in the dialogue and interject questions in a moderated discussion as the art emerges. The event program includes a presentation about Frank Lloyd Wright and the influence of Japanese culture on his work. This event will be filmed, with footage to be used for a documentary film of the LAB project.
Takes place at The Chauncey L. and Johanna Griggs House (a Frank Lloyd Wright-designed home) in Lakewood, WA, this performance runs from 2 p.m. to 6 p.m. on Sunday, August 4, 2018. Seating is limited. Tickets to this event may be purchased at: https://spacesofliminality.eventbrite.com/. Ticket sales benefit Pacific Bonsai Museum (a 501-c-3 non-profit organization) and its LAB program.
ABOUT THE LAB:
Rather than starting with a styled tree and asking both the pot and the standmaker to respond to it (as is traditionally practiced), the LAB asks: what if the stand comes first?; or the pot?; where can these makers take the art of bonsai if they allow themselves to influenced by each other in an entirely new way?
The LAB is a multi-year project, kicking off in 2018 and continuing through 2020, consisting of collaborative working sessions and presentation sessions in notable architectural settings. All members of the design team will be present for each gathering to answer audience questions and discuss their work philosophies and design decisions in detail. These sessions will produce three, one-of-a-kind works of living art, with bonsai styling taking place before a live audience.
An episodic documentary of the LAB project will feature excerpts from each LAB Session and in-process interviews with the artists while they work. Episodes will be released on at a time starting after the first LAB session (August 2018).