By Tracy Wang
We've been talking nonstop about inclusion for some time now, but it is a constant progress that can at times be slow. Fortunately, we have Sound Theatre Company right here in Seattle. For its 2018 season's closing piece, we get to watch 'The Rules of Charity', a play that has disability at its core, and asks us not to shy away from how disability is viewed and treated in the United States.
Even though US has roughly 51.2 million people that had some level of disability in 2002 (18.1% of the population), the time when the first act is set in, for many of us, disability is only a word in our vocabulary, or something we see on the street. Rarely do we really get to understand or experience what being disabled in the US means.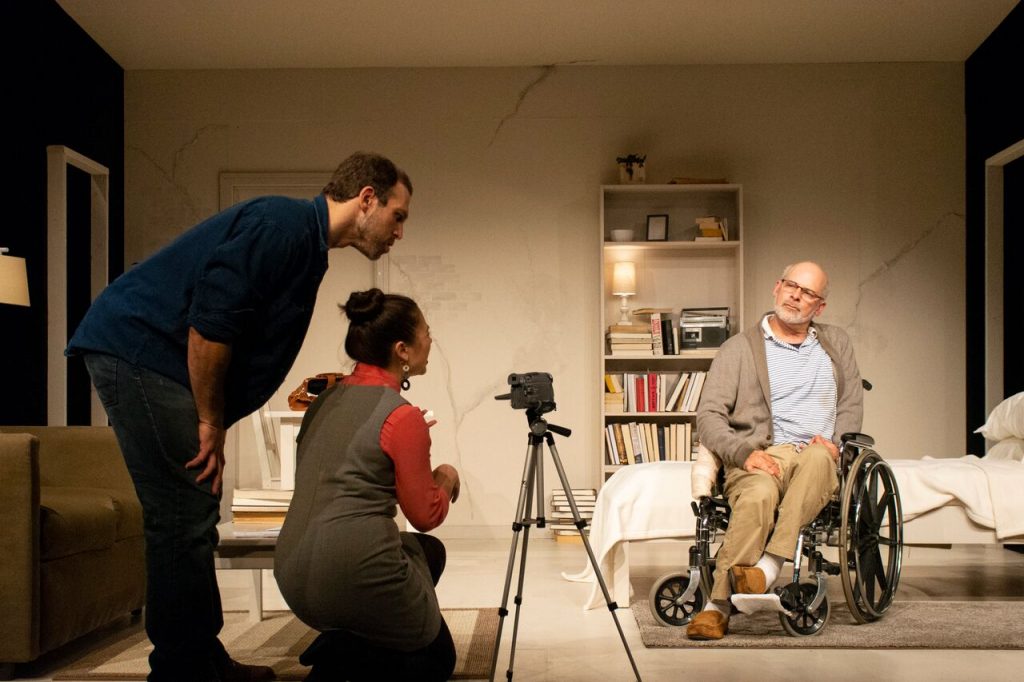 However, Sound Theatre Company again provides Seattle audiences with a play that is relevant, fresh and significant to a city which pledges to be more inclusive. 'The Rules of Charity' by John Belluso, who started to use a wheelchair when he was thirteen years old, promises to be a play that is about all these topics such as disability, homophobia and family, and it is one that resonates with anyone who has ever loved and hated at the same time, and anyone who has to swallow pain and hate in order to love and to live.
Because of cerebral palsy, Monty, the father, uses a wheelchair to get around. Though he has been married once and has a daughter, Loretta, who takes care of him, he is actually attracted to man, and has been in love with LH, the superintendent of their apartment building.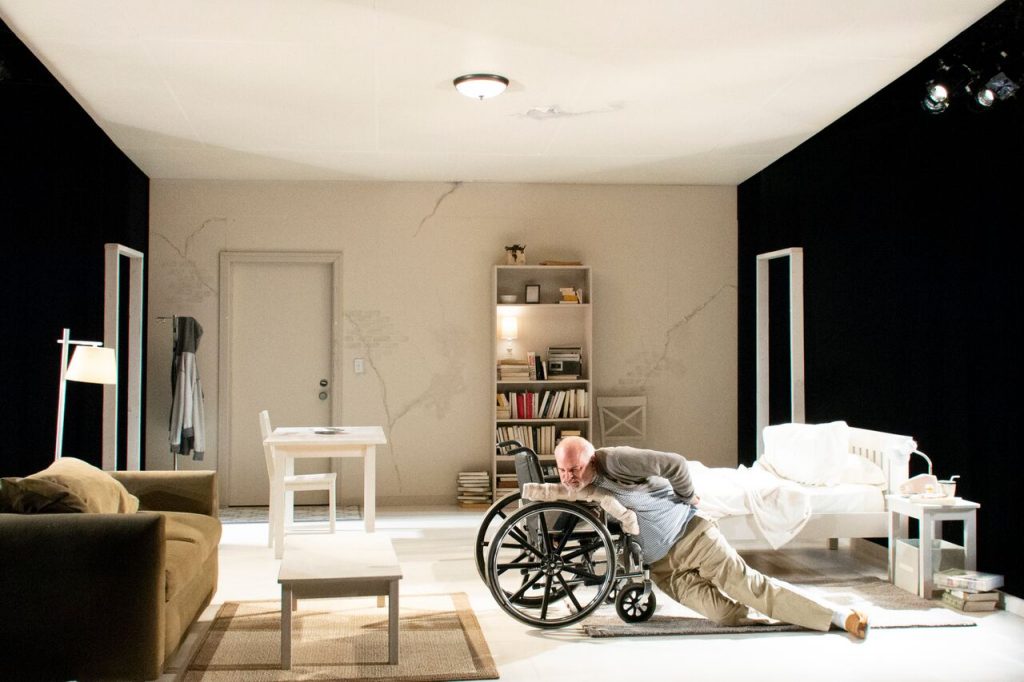 Intelligent and handsome, Monty has been teaching LH history and books he read, and the times when they hang out are the highlight of his days. Loretta, though taking care of her father after her mother died of cancer, has been tormented by contradictory feelings toward taking care of him.
Everything seems to be well, until Monty finds out LH is dating Joyce, their landlord's daughter, who is making a documentary film on Monty's disability. Soon, it is revealed that LH has other plans about his life that do not include Monty. Left alone again, what will Monty and Loretta do with their complicated relationship?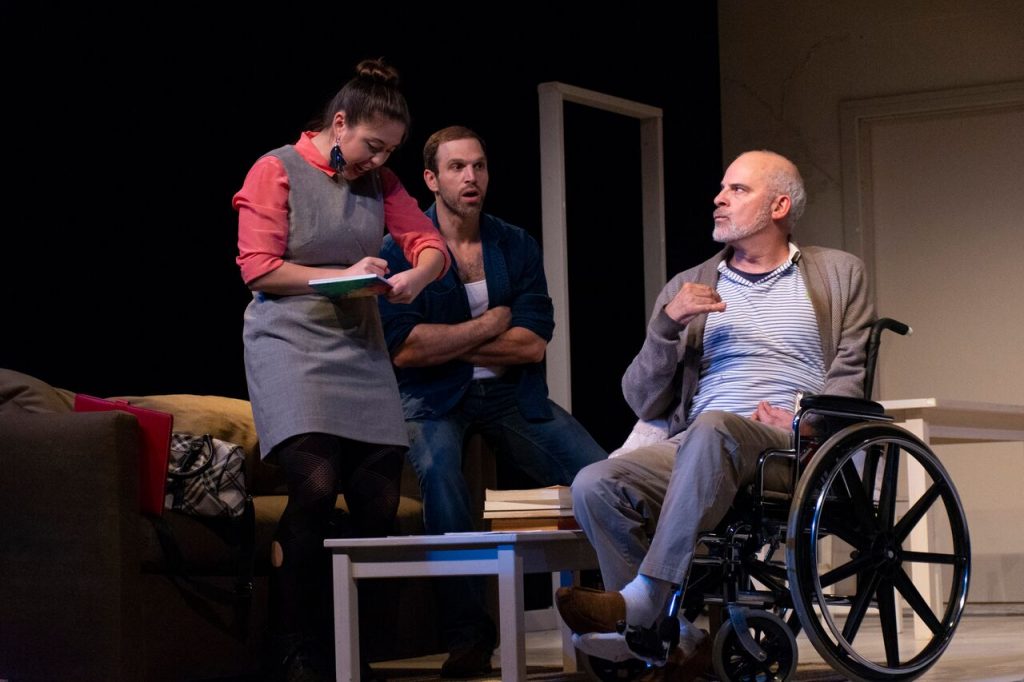 As the title of the play suggests, the play is largely on the relationship between a giver and a receiver. In this over-two-hour play, we encounter many complex relationships like those between a father and a daughter, between lovers and between able-bodied and disabled people. All these relationships collide and we see them as though through a magnifying glass.
The constant tension is brought out beautifully by the cast on opening night. Andrew Litzky, a disabled actor, takes on Monty's role with a sense of intense honesty and rawness. As we watch him struggle to get back onto the wheelchair, and him flipping himself down the bed out of frustration, we experience firsthand of what a disabled person's life means. The constant battle with his own body, the guilty feeling of having her daughter care for him always, and also other battles that he fights like many others such as his attraction to man and him trying to keep his dignity as someone who has to rely on social security money, are all shown clearly, as we stare wide-eyed at a person who is capable of so much in a society where his potential does not have the chance to be fully realized.
We watch Monty and Loretta test each other, and love each other, and we cannot help but weep, when Monty reveals his love for her in the end, and after we have experienced this incredible tale of what hardship and normalcy a disabled person like Monty faces every single day.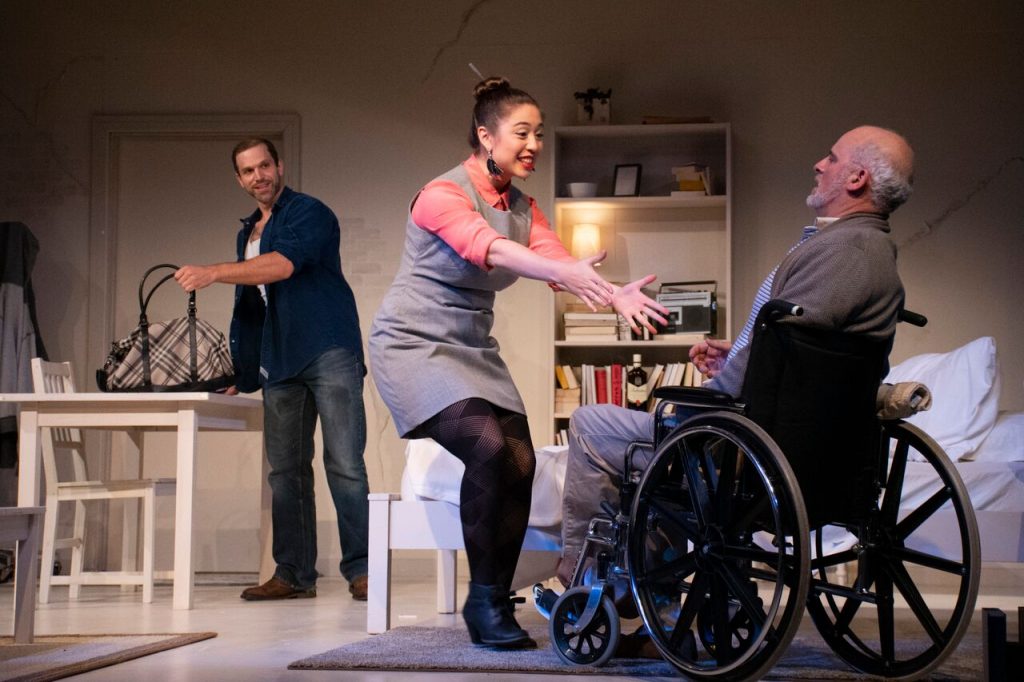 Before, in terms of disability, many of us were rubbernecks who are just at times curious of what a disabled person's life is like. We sighed when we see them on the street, and we remarked on how difficult their lives must be, without any accurate or honest idea of what they truly are like.
But now, after 'The Rules of Charity', our hearts remain heavy, as we relive all the challenges of a disabled person and those around him, both physical and emotional, that we've seen in the play. The play gives us all a short insight on how society views and treats disability, and makes the theatre scene in Seattle a bit more inclusive.
However, the most important takeaway from the play remains to be the message it carries: that everyone has to go through pain, loss and hate in order to love, that some people face far greater challenges than others, that it is crucial for us all to remember that love has the ultimate power to transcend hate and pain.
For more information or to buy tickets, please visit: http://www.soundtheatrecompany.org/2018-season/the-rules-of-charity/