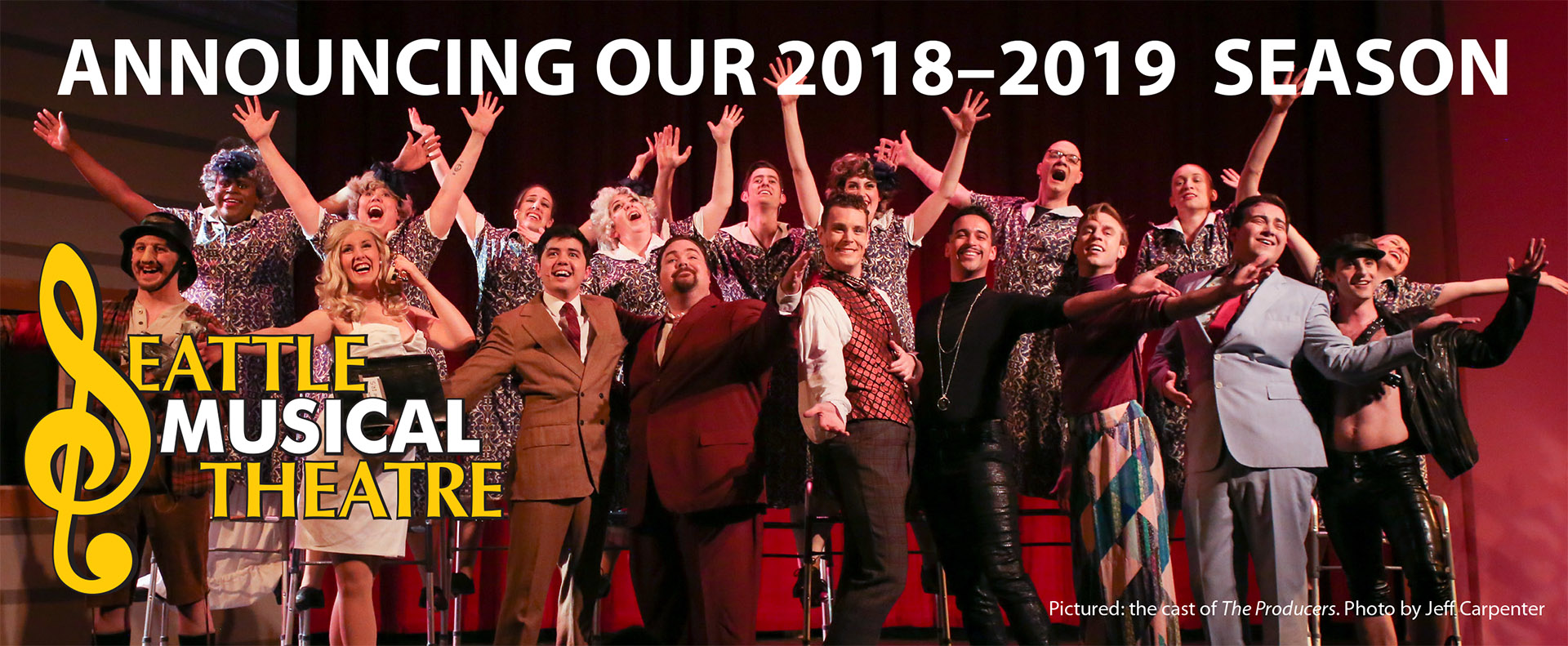 Seattle Musical Theatre (SMT) leaps into its 41st season with a high-powered production of Legally Blonde The Musical. For 13 performances this diverse cast of fresh local talent brings Harvard's beloved blonde Elle Woods, her Delta Nu sisters and adorable dog bruiser to the stage.
This upbeat story of the famously perky and delightfully "pink" Elle Woods is about self-discovery, transformation and the pursuit of dreams. She tackles stereotypes, reveals a scandal, defies expectations and quickly realizes her potential. This production promises equal parts slapstick and social commentary. Director Megan Brewer updates the 2007 Broadway version with a fresh 2018 social perspective that explores how privilege can affect worldviews and an individual's perception of themselves.
Legally Blonde is directed by Megan Brewer; Stage Manager, Tiana Ross; Choreographer, Mackenzie Neusiok; Music Director, Heather MacLaughlin Garbes; Costume Designer, Janelle Kimbrough; Scenic Designer, Parmida Ziaei; Lighting Designer, Zane Suarez; Sound Designer, Iris Zacharias; Props, David Hsieh.
Cast includes Jadyn Muralt (Elle Woods); John Han (Emmett Forrest); Fune Tautala (Warner); Eric Hartley (Callahan). The ensemble includes Trevor Burden, John Camarillo, Justine Davis, Sarah Fairchild, Emily Frier, Devyn Grendell, Sam I'Am, Merideth Kirry, Hannah Knapp-Jenkins, Alexandra Kunin, Neve Mazique-Bianco, Kayla Rose, Megan Smith, Sage Suzerris, Anna Vizzare, Kiki Werner, Bethanie Willis, and Yang Zhang.
Performances are October 12 – 28 at 7:30 pm on Fridays and Saturdays, and 2 pm on Saturdays and Sundays. There is an additional evening performance on Thursday, October 25th at 7:30 pm. General Admission tickets are $40. Senior, Student and Military tickets are $35. Tickets are available at www.seattlemusicaltheatre.org
About Seattle Musical Theatre
Seattle Musical Theatre (SMT) was founded as Seattle Civic Light Opera (CLO) in 1977 by a group of Seattle opera enthusiasts, including Joan Galstaun and Barbara McHargue. With a keen interest in offering theatre to North Seattle communities, they pooled personal resources, located a venue above a music store in Northgate, (Heritage Theatre), and launched CLO's first season with German composer Johann Strauss' "The Gypsy Baron". By 1978, the venue was running at capacity so the troupe moved to the 750-seat auditorium in the Jane Addams School in Lake City. In response to audience requests, CLO began including musicals as part of their 1980 season. CLO remained at the Jane Addams stage through 2002 but a school remodels forced them to relocate. From 2003 to 2008 CLO operated, temporarily, from the Shoreline Community Center; it was during this time (2006) that a rebranding campaign for SMT was launched. In 2008 the newly branded Seattle Musical Theatre moved into Building 47 of the Historic Magnuson Park.