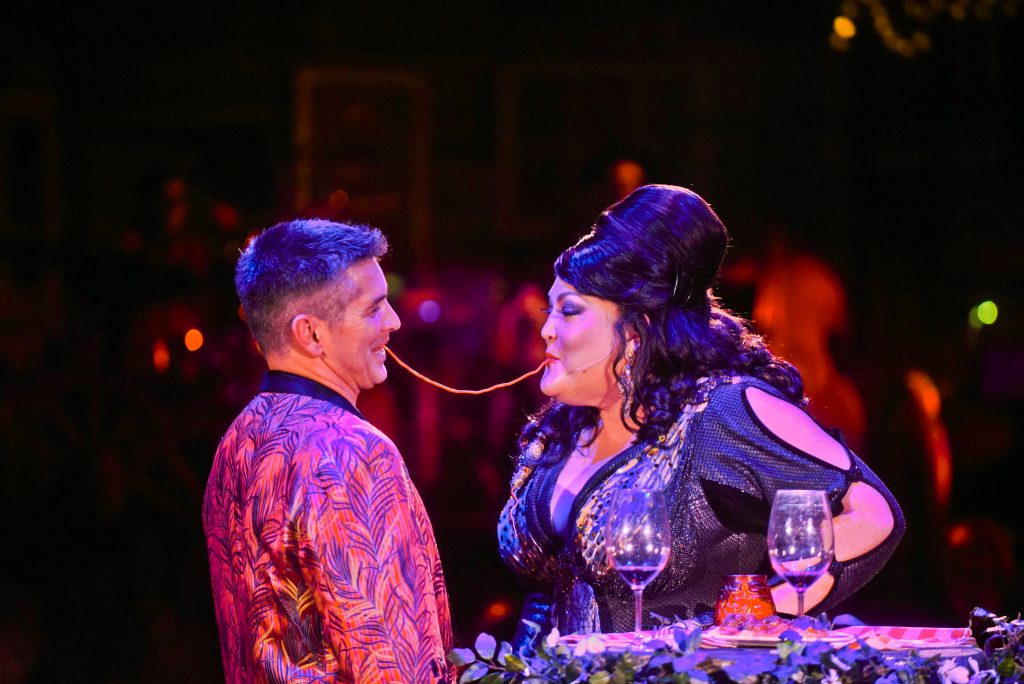 By Torrie Nagendran
After relocating from its Seattle location near Seattle Center and a temporary stay at Marymoor Park, Teatro Zinzanni celebrated its 20th Anniversary with a brand new production, Hollywood & Vine at its long-time home in the former Redhook Brewery space in Woodinville
Having been to a Teatro Zinzanni performance a couple years ago at the Seattle location, I was pleased to see that parking was plentiful (a contrast from the prior Queen Anne location).  I was also relieved that nothing had changed about the impressive Spiegeltent, the 100+ year old "tent" imported from Belgium, which consists of over 4,000 pieces and can accommodate 300 audience members plus performers. Actually, referring to this magnificent structure as a "tent" seems disrespectful—it is constructed of beautiful red velvet, stands 29 feet tall, and is impressive to say the least!
Once inside the spiegeltent, we were shown to our reserved table. Our server explained the progression of the evening, including an overview of the 4-course menu, exclusively curated for Teatro Zinzanni by James Beard award-winning chef, Jason Wilson of the Lakehouse in Bellevue. The 4-course menu currently includes an appetizer, soup, four choices for a main entree (including both a vegetarian and vegan option) and finally, dessert. In addition to the set menu, guests can also add on extras such as lobster tail, extra appetizers, and specialty cocktails for an extra fee.
I opted for the meat entrée: grilled sirloin served with roasted potatoes and bell peppers garnished with red wine, demi glace, and basil pesto. While the meat portion was very generous and the pesto sauce added a nice flavor, the meat itself was a bit tough. My husband had the vegetarian goat cheese and roasted pumpkin ravioli served with sage brown butter and fresh cranberries. I was lucky to steal a few bites and really enjoyed the contrast of the sweet pumpkin with the tart cranberries.
For the show portion of the evening, in a nutshell, if you mix Cirque, Broadway, Vaudeville, throw in fine dining and sprinkle comedy on top, you get the perfect recipe for a fun evening out with a special someone, a group of friends, or with coworkers for a team-building event.
"Hollywood & Vine" is a unique combination of acrobatics, theatrics and comedy. For me, the acrobatics really stole the show while each performer brought something unique to the performance.  The intimate setting and proximity to the performers is truly worth the price of admission. Unlike a Vegas show where you might need binoculars to see what's happening, guests are literally part of the action, which is part of the charm and excitement at Teatro Zinzanni. In fact, certain parts of the show require audience participation and because of this, each show is a little different, and spontaneous as well!
After the show concluded, we left feeling inspired, entertained and well fed.  Our servers did an admirable job of making the guests feel special. "Hollywood & Vine" is a unique show that brings the thrills and glamour of a Vegas-type spectacle right to our backyard.
Teatro Zinzanni's "Hollywood and Vine" is currently playing until April 28, 2019 from Wednesdays to Sunday. For more information, visit http://zinzanni.com/seattle.