By Narisa Lin
A beautifully curated and immersive experience featuring avant-garde fashion, photographs, and videos from internationally famous and emerging designers and artists such as Alexander McQueen, Vivienne Westwood, Chromat, Issey Miyake & Dai Fujiwara, Studio Roosegaarde, and more.
A Queen Within is an exhibition organized by Barrett Barrera Projects and curated by MUSEEA. A Queen Within explores how contemporary designers engage with female archetypes through the six personalities of a queen: Mother Earth, Sage, Enchantress, Explorer, Heroine, and Thespian. These archetypes represent women's changing roles and act as a visual symbolism of female identity.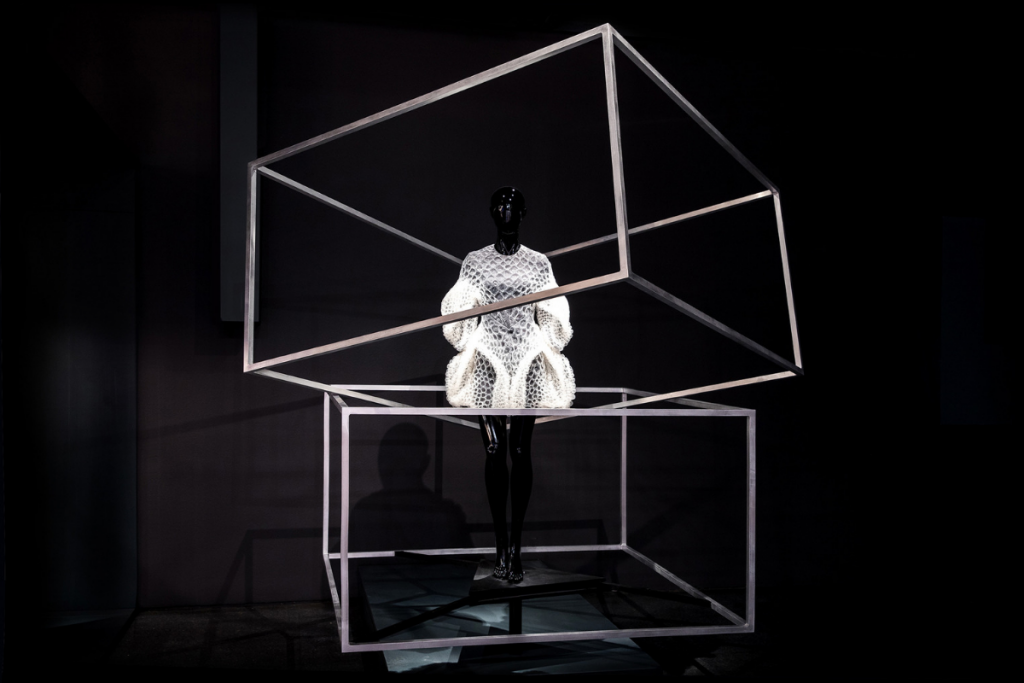 MoPOP has undergone several name changes and has an evolving identity. MoPOP wants to broaden their conception of how people perceive them and this particular exhibition exemplifies that, "It feels like us," explained Jacob McMurray, the director of curatorial affairs. "Creating a space that transports us to a different world and it does that. High concept and provocative."
This exhibition is not only visually pleasing but also extremely relevant. One of the archetypes is "Sage," the Sage Queen is described as a thinker with strengths of wisdom and intelligence. The Sage materializes her archetypal qualities in 'smart' garments and explores zero waste designs. On display is the Sejaku 'cymatic' dress designed by Iris van Herpen and is made from the lightest Amaike-organza, woven from threads five times thinner than human hair. To create this soft and sculptural-like shape, the traditional Japanese 3D shibori technique was used. The inspiration behind this collection is found through the practice of visualizing sound waves in geometric patterns. You can also learn about other forms of biofabrication in fashion in this section.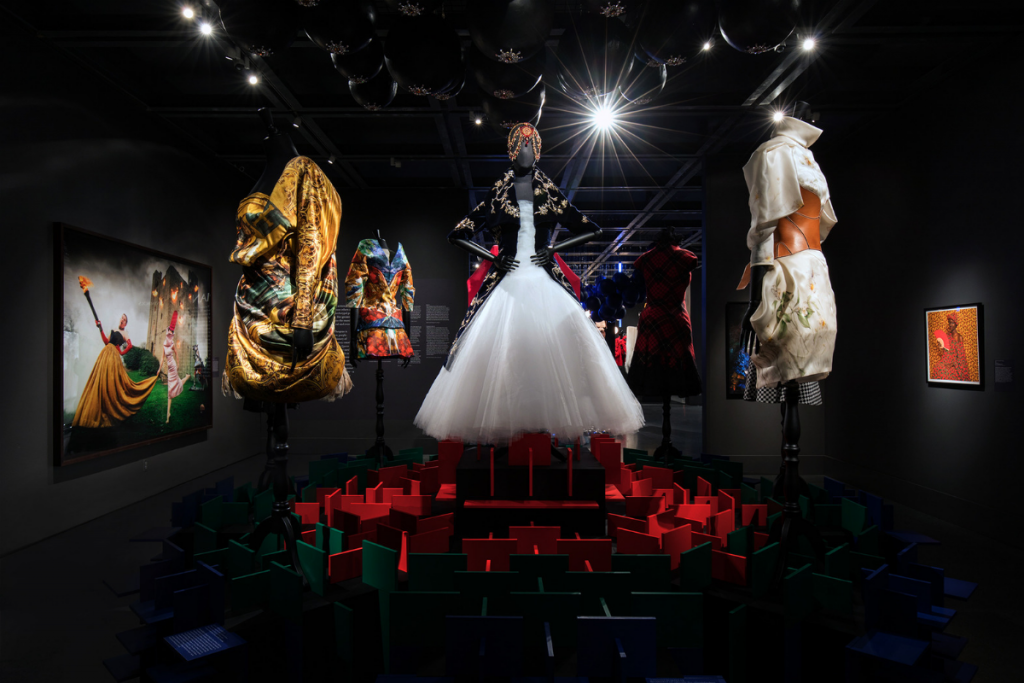 Walking further into the exhibition from the entrance is the Heroine Queen, characterized by a strong sense of personal morality and a willingness to embrace challenges. This archetype translates to battle-ready garments, with pieces from Chan Luu, her handmade Swarovski crystal chainmail dress symbolizes tenacity through the strength of diamonds. Another mind evoking piece that illustrates how fashion can make a statement is Hassan Hajjaj's Kesh Angels photography series that pays homage to Marrakech women. They're dressed in djellaba robes and posing on motorcycles, defying stereotypes of Arab women as docile and oppressed.

It is truly an exhibition not to be missed. Be prepared to feast your eyes with glamorous haute couture, captivating photographs, and interactive films. It celebrates diversity, inclusivity, technological advances and so much more in fashion. Also, be sure not to miss the impressive 70 yard long sleeves by Antoine Peters when you walk up the stairs! This exhibition is now on view through September 2, 2019. More information is available at https://www.mopop.org/